News story
Business contracts: to create a digital solution for childcare options
Up to £200,000 funding is available to develop a digital 'one stop shop' providing accurate information for parents on childcare options.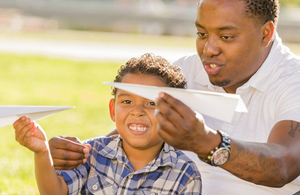 The Department for Education (DfE) and Innovate UK are offering funding to develop a website or app that helps parents find out about the many childcare options available quickly and easily.
One stop shop for childcare information
If you have an idea that could offer a 'one stop shop' solution you can apply to win a share of the £200,000 available. The solution should:
enable parents to make informed decisions about what childcare is best for their children, taking into account a wide range of factors
be easy to use
provide timely, accurate data
DfE, supported by Innovate UK is using Phase 2 of the SBRI process to support the prototype development of selected proposed solutions.
Competition information
the competition opens on 2 February 2015
DfE intends to hold a briefing event for potential applicants in February
for further information please contact Hannah Yates, Department for Education:

by email hannah.yates@education.gsi.gov.uk
by phone 0161 6001662

if you'd like to attend the briefing event please register your interest with DfE by email by 31 January
Published 22 January 2015