Child experts recruited to family returns panel
Child welfare experts appointed to panel advising the government on the removal of families found to have no right to be in the UK.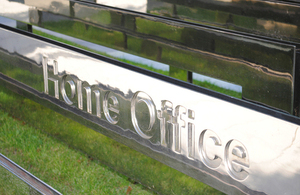 Child welfare experts have been appointed as full members of a panel advising the government on the removal of families found to have no right to be in the UK.
The Independent Family Returns Panel makes recommendations to the UK Border Agency on the best method of returning individual families to their home country, ensuring the specific welfare needs of children are met.
Following an open recruitment process, Immigration Minister Damian Green has appointed 11 panel members including the chair, Chris Spencer, a former Director of Education and Children's Services in the London Borough of Hillingdon.
Other panel members include former directors of local authority children's services departments, members of Local Safeguarding Children Boards, a former head teacher and doctors who will be able to provide professional medical advice.
Damian Green said:
'Our more humane approach to family returns places the welfare of children at the heart of the process and the Independent Family Returns Panel has a vital role to play.
'These appointments mean that our decisions will continue to be guided by a group which boasts an exceptional level of expertise, experience and dedication to the welfare of children.
'We always take a compassionate approach in this sensitive area of our work but individuals with no legal right to be in the UK must return home.'
The appointments announced today mean that the panel now exists in its full form, having operated on an interim basis since March 2011.
Mr Green also announced today that representatives of the UK Border Agency and Department for Education who sat on the panel as interim members during its initial phase are to withdraw from full panel membership. UK Border Agency officials will continue to support the panel, providing operational information and answering the questions of panel members.
Chair Chris Spencer said:
'Once the decision has been taken that a family has no right to remain in the UK it is important that the plan to remove them reflects the children's best interests and considers carefully any safeguarding issues.
'I am pleased that independent members appointed to the panel bring with them years of experience from across the children's landscape including the police, local authorities, health services and the third sector which will ensure that this happens.'
Minister of State for Children and Families Sarah Teather said:
'The reforms to the immigration system for children and families have been about putting compassion and children's welfare at its heart.
'The appointment of members to the full panel contributes to that by ensuring that there is independent expertise on how best to manage returns of individual families.'
The panel is one part of a wider process designed to ensure families with no right to remain in the UK are returned to their home countries with dignity, ensuring the welfare of children at all times.
The new approach emphasises close engagement with families and provides a range of structured opportunities for them to take up assisted return or leave of their own volition, to make further representations or seek further legal redress.
NOTES TO EDITORS
1. The government committed to the ending of child detention for immigration purposes. In December 2010, it unveiled a new compassionate approach to family removals, following a wide-reaching review and consultation led by the UK Border Agency in partnership with the Department for Education.
2. For more information on how the process works, visit the relevant section of the UK Border Agency website at: http://www.ukba.homeoffice.gov.uk/aboutus/workingwithus/indbodies/04independent-family-returns/
3. For further information on the panel's recruitment or the new family returns process, contact Ben Biddulph in the Home Office Press Office on 020 7035 3857 or call the press office Newsdesk on 020 7035 3535.
4. To request interviews with Chris Spencer or find out more about the work of the Independent Family Returns Panel, please contact the panel's press officer, Andrew Bell, on 020 7035 3535.
5. For all the latest Home Office news, photos and video visit the media centre: www.homeoffice.gov.uk/media-centre or follow us on Twitter at http://twitter.com/ukhomeoffice
NEW PANEL MEMBERS
Chris Spencer (chair) was Director of Education and Children's Services in the London borough of Hillingdon until February 2011, where he worked for over six years. Chris was also the chair of the interim panel.
Dr Robin Basu worked as a senior medical manager and as a Consultant Child and Adolescent Psychiatrist in the NHS for 30 years.
Dr Stephanie Green, for the last 10 years the Port Medical Officer at Heathrow Airport, advising on the health of new entrants to the UK, including those seeking asylum. 
Philip Ishola, former Head of Immigration and Asylum and counter-child-trafficking lead officer at Harrow Children's Services, and current chair of the London Safeguarding Children Board subgroups on trafficked children and the 2012 Olympics.
Dr John Keen, a GP in Chiswick since 1988 who is also chair of Central London & Brent Research Ethics Committees, and medical adviser (housing) to several local authorities in London and elsewhere.
Pauline Newman, who has held senior positions within several large local authorities, including as the Director of Manchester Social Services and Manchester Children's Services and as the Deputy Director of Birmingham Social Services.
Bernard Phillips, who was the head teacher of an inner city comprehensive school for 19 years, has extensive experience in community cohesion work and currently chairs the governing body of a primary school in Oldham.
Sir Roger Singleton, chair of the Independent Safeguarding Authority (ISA), who has a background in education, children's services, policy and management and is the former chief executive of Barnardo's.
Geoff Sloan, a recently retired Detective Superintendent with Merseyside Police who, as Operations Commander for the Wirral Division, was head of the Family Support Unit and a member of the area's child protection committee.
Prospera Tedam, a senior lecturer and programme leader for the undergraduate degree in social work at the University of Northampton, who previously worked in the private and statutory sectors as a social work practitioner and manager.
Lorna Tull-Griffith, a trainer/consultant who has worked with children and young people for 30 years and was previously a head of service in a large local authority.
Published 25 April 2012