Chief Operating Officer for Government appointed
A Chief Operating Officer for Government has today been appointed to the Cabinet Office to improve the way government operates.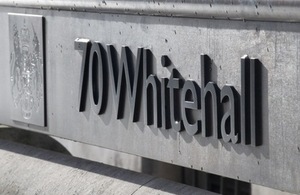 17 September 2012
CAB 096-12 
To build on successes to date in improving the way government operates, making efficiency savings and supporting UK growth, a Chief Operating Officer for Government has today been appointed to the Cabinet Office.
The appointment of Stephen Kelly as Chief Operating Officer for Government will enable the government to go even further with its crucial efficiency and reform agenda and build on the £5.5 billion of efficiency savings achieved last year.
Stephen, who will lead the Cabinet Office's Efficiency and Reform team, brings extensive experience.  As former CEO of a US NASDAQ Company and more recently CEO of FTSE Company, MicroFocus, Stephen led the company to become one of the best performing UK companies on the London Stock Exchange. In his previous roles in the Cabinet Office, Stephen was one of the architects of the programme that generated first-year savings of £800 million through supplier renegotiations. He also led the successful delivery of MyCSP - the first 'John Lewis-style' mutual to spin out from central government, which within a decade is set to save taxpayers half the cost of administrating pensions for the 1.5 million Civil Service Scheme members.
Announcing today's appointment, Cabinet Office Permanent Secretary, Richard Heaton, said:
I'm really pleased that Stephen has been appointed. Stephen is one of the most successful CEOs from the private sector and has already proven himself within Government.
Minister for the Cabinet Office, Francis Maude, said:
I've always said government needs to function more like the best run businesses and this new appointment, which will strengthen the corporate centre at the heart of Whitehall, is another step towards meeting that goal.

Last year, the Efficiency and Reform Group helped departments save a staggering £5.5 billion - or £500 for every working household in Britain. But we want to go much further in cutting waste, saving money and streamlining Whitehall.

Stephen brings expertise and charisma to this crucial role and I look forward to working with him. Together, we will save taxpayers even more money and improve the way government is run.
Chief Secretary to the Treasury, Danny Alexander, said:
The wealth of experience and expertise which Stephen brings, from heading up successful businesses, to pioneering change in the public sector, will bring real insight to this important role in the centre of government.

I look forward to working with Stephen, building on the significant progress already made in making Whitehall more efficient and helping to put Britain's public finances back on track.
Notes to editors
1. This appointment was made following an external competition.
2. Stephen Kelly has over 25 years successful private sector as CEO, entrepreneur and investor in high growth UK and US based companies.
3. About the efficiency and reform agenda:
Tight controls on spending and a business-like approach to government have led to cash savings of £3.75 billion from May 2010 to April 2011 and £5.5 billion in 2011/12. The savings were driven by the Cabinet Office's Efficiency and Reform Group (ERG), which applied spending controls to cut expenditure by departments on IT contracts, property, marketing, temporary staff and consultancy.
Published 17 September 2012