News story
Chief of the Defence Staff visits Lebanon
The Chief of the Defence Staff has visited Lebanon to discuss ways in which the UK can strengthen its defence relationship with the country.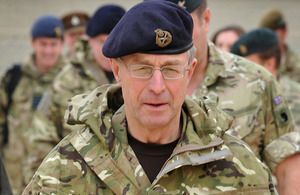 General Sir David Richards met with his counterpart General Jean Kahwaji, Commander of the Lebanese Armed Forces, to explore areas in which the UK can offer targeted support to help develop their capability and deepen an enduring defence partnership.
These include building capacity through training and equipment in line with the Lebanese Armed Forces' capability plan.
General Richards, who was in Lebanon yesterday and today, 4 to 5 July, was also able to use his visit to confirm that the UK government intends to provide the country with a specific support package to help it deal with the security situation it currently faces on its border with Syria.
The package of mobility, communications, protection and surveillance equipment and associated training to help Lebanon safeguard its borders is subject to formal UK parliamentary approval.
General Richards said:
I am delighted to have had the chance to talk with General Kahwaji to see how we can further support the Lebanese Armed Forces as they defend the nation's territory and sovereignty.

Since 2010 the UK has more than doubled assistance to the Lebanese Armed Forces and I am pleased to take this opportunity to reiterate the UK's commitment to Lebanon's stability, democracy and sovereignty.

I have great respect for the professionalism and leadership of the Lebanese Armed Forces, who are playing a critical role in preserving the country's hard-won peace in the face of the challenges presented by the conflict in Syria.
Existing UK support to Lebanon includes the Lebanese Armed Forces' training facility at Hamat and a number of recently constructed border observation towers.
Published 5 July 2013