Chief of British Army visits troops in Helmand
During his visit, which concluded today, General Wall visited the Headquarters of Task Force Helmand, based in the southern Afghanistan town…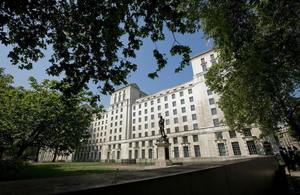 During his visit, which concluded today, General Wall visited the Headquarters of Task Force Helmand, based in the southern Afghanistan town of Lashkar Gah.
He met with the Commander of British forces there, Brigadier James Chiswell, who gave him an update on the progress in delivering security to the area and developing their partners from the Afghan National Army and Afghan National Police.
The General also received briefings on the role of the Afghan National Police (ANP) from Lieutenant Colonel Adam Griffiths, the Commanding Officer of The Argyll and Sutherland Highlanders, 5th Battalion The Royal Regiment of Scotland.
The unit are responsible, along with the Ministry of Defence Police, for training the ANP within Helmand province. They do this both by partnering out on the ground and at the Helmand Police Training Centre in Lashkar Gah, which is shortly to graduate its 2,000th recruit.
General Wall then proceeded to visit troops from The Royal Highland Fusiliers, 2nd Battalion The Royal Regiment of Scotland, at Check Point Attal. The base is located on the important Route 601, to the west of Lashkar Gah, and maintaining freedom of movement for local people whilst disrupting the insurgents is a key role of the troops there.
The General then met members of 3rd Battalion The Parachute Regiment, and their Afghan National Army partners, in Patrol Base Shahzad, located in the Nad 'Ali district of Helmand, before going on to visit members of 1st Battalion The Irish Guards, the 'Brigade Advisory Group' supporting 3/215 Afghan National Army, at Camp Shorobak.
At Camp Bastion, the main British operating base in Helmand, CGS visited the headquarters of Regional Command (South West) and Joint Force Support, witnessed counter-IED training in action, and visited a number of other units.
General Wall told soldiers at Camp Shorobak:
Your job of training the Afghan forces is our main effort - that and development of Afghan governance is our strategy. You men can be proud of your efforts and what you have achieved. Keep up the good work.
Published 24 December 2010