Press release
Chief inspector of constabulary to retire
Sir Denis O'Connor will retire on 31 July as chief inspector of constabulary, the home secretary announced today. He will leave after more than three years in the role at her majesty's inspectorate of constabulary (HMIC).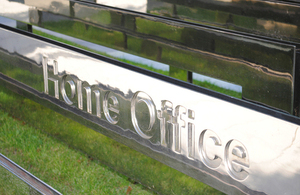 Home secretary Theresa May said:
'I would like to thank Sir Denis O'Connor for his dedication and commitment to HMIC, both as inspector and chief inspector, during the past eight years.
'His expertise and knowledge have been invaluable in enabling the inspectorate to continue to deliver an efficient and independent inspection programme during many challenges and changes in the policing landscape.
'I would also like to commend him for his dedicated, long-standing and exemplary service to wider policing in England and Wales.'
Sir Denis spent five years as an inspector of constabulary before being promoted to chief inspector in 2009. Prior to joining the inspectorate, Sir Denis was chief constable of Surrey police between 2000 and 2004.
A new appointment to the post will be made later this year.
Notes to editors
1. HM chief inspector of constabulary is a Royal appointment made under section 54(1) of the police act 1996. HM chief inspector of constabulary's primary remit is to lead HMIC in fulfilling its statutory responsibilities.
2. HM inspectorate of constabulary (HMIC) is charged in statute with inspecting the efficiency and effectiveness of the police service in England and Wales. To find out more, go to http://www.hmic.gov.uk/.
3. Further information on Sir Denis's career can be found at: http://www.hmic.gov.uk/about-us/who-we-are/
4. A photo of Sir Denis O'Connor is available upon request from HMIC press office by calling 020 3513 0600 in working hours, or 07836 217729 at other times.
Published 28 March 2012