World news story
Chief Executive of UK Trade & Investment is visiting Israel
Chief Executive of UKTI, Nick Baird, arrived today (Thursday 23 May 2013) for a one-day visit in Israel to explore options for strengthening UK-Israel commercial ties.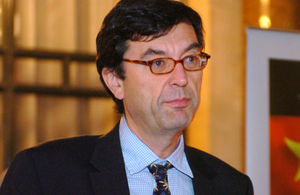 During his visit, Baird will meet with the Governor of the Bank of Israel Stanley Fischer, the Director General of the Ministry of Economics and Trade, Sharon Kedmi, and senior businesspeople, including the former Chairman of the board of Iscar Eitan Wertheimer, CEO of Delek Drilling Yossi Abu, and others.
Nick Baird has been the Chief Executive of UKTI since September 2011. UKTI is the Government Department that helps UK-based companies succeed in the global economy. UKTI also help overseas companies bring their high-quality investment to the UK's dynamic economy, acknowledged as Europe's best place from which to succeed in global business. UKTI offers expertise and contacts through its extensive network of specialists in the UK, and in British embassies and other diplomatic offices around the world.
Nick Baird is a career diplomat who has specialised in commercial and economic work in the European market. He has previously served in senior positions in the Middle East and the European Union on behalf of the UK government, including as the UK Ambassador to Turkey and as Director General of the Foreign and Commonwealth Office.
Published 23 May 2013