World news story
2015 Chevening Scholarship Applications for Cameroon closing
Eligible candidates from Cameroon, Gabon, Chad and Equatorial Guinea called upon to apply fast before November 15th deadline.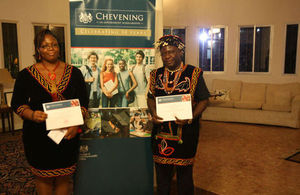 The 2015/2016 application for the UK funded Chevening Scholarship which was launched earlier this year for applicants in Cameroon and Central Africa is fast drawing to a close.
For the first time since its creation, 15 full scholarships are to be awarded at the end of the delection process to eligible candidates from Cameroon, Chad, Gabon, and Equatorial Guinea who have applied for teh scholarship schene.
British High Commissioner, H.E. Brian Olley while sending off the 2014 Chevening scholars encouraged Cameroonians and nationals from the neighbouring Central African countries mentioned above to apply for the prestigious scheme quiclky before the deadline on the November 15th deadline.
"I am particularly excited to inform you that the number of global scholarships is set to triple in 2015/16, expanding its reach to more than 1500 individuals worldwide. This means that in addition to the two outstanding scholars we have here this evening, next year we will be able to offer fifteen Chevening scholarships. These are in competition with the neighbouring countries we cover from Yaoundé: Chad, Gabon, EG and CAR. The application window is currently open, and candidates have until November 15th to apply so the message is don't delay".
Candidates from Cameroon, Central African Republic (CAR), Chad, Gabon and Equatorial Guinea are called upon to apply here
Published 8 August 2014
Last updated 3 November 2014
+ show all updates
Article updated.
A picture of current scholars
First published.