World news story
Application window for Chevening scholarships opens today
Today, the application cycle for Namibians to apply for the 2017/18 UK Government scholarship programme Chevening has opened.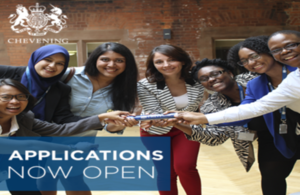 Aspiring candidates from Namibia can apply for the UK government's scholarship programme for 2017 and 2018 from 8 August 2016 to 8 November 2016.
The call for new applicants follows the selection of 9 scholars from Namibia, who won an award to study at a UK university this year. They will leave in September 2016. One of these scholarships is jointly funded by Chevening and Petroleum Training and Education Fund (Petrofund).
Currently five Namibians are studying in the UK under the Chevening scholarship programme. Prominent Namibian Chevening alumni are, among others, Chief Justice Peter Shivute and Namport CEO Bisey Uirab.
Chevening is the UK government's global scholarship programme, funded by the Foreign & Commonwealth Office (FCO) and partner organisations. The programme makes awards to outstanding scholars with leadership potential from around the world to study fully funded postgraduate courses at UK universities. Awards in Namibia are typically for a one-year Master's degree, with priority given to those who wish to study in the areas: Trade, Human Rights, Governance, Media and Climate Change at any of the UK's leading universities.
In partnership with the Petroleum Training and Education Fund (Petrofund), Chevening is offering two jointly funded scholarships in the field MSc. Oil & Gas Law and MSc. Oil & Gas Finance/Accounting for two Namibian scholars.
See list of courses/universities here
On the occasion of the application cycle opening, UK High Commissioner to Namibia, Jo Lomas, said:
"The UK is home to many of the world's best universities, and Chevening enables you to develop academically, professionally, and personally whilst studying in the UK. Those who are selected for a Chevening Scholarship become recognised as leaders belonging to a global network of influencers. They are empowered with a strong sense of pride and responsibility.
"They share the best their country has to offer with those they meet in the UK, and then share the best the UK has to offer when they return home. For this reason, the role of Chevening Scholars is important in building bridges between countries."
More about the Chevening Scholarship programme can be found here.
Published 8 August 2016