World news story
Chevening alumni lecture at Handique Women's College Guwahati
From:

Part of:

Published:

15 March 2017

Last updated:

16 March 2017, see all updates
The British High Commission with Chevening Alumni India held a lecture with students of Handique Women's College Guwahati, 15 March 2017.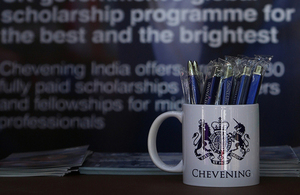 At the lecture titled 'Women's rights – mapping the national and international framework,' Professor Ruchira Goswami, Chevening alumni and Professor at the West Bengal National University of Juridical Sciences (NUJS) discussed the national and international framework on women's human rights.
Giving a three-part presentation, she firstly explained the importance of establishing women's rights as human rights. In the second part, she talked of the national legal framework and discussed the constitutional framework and criminal law provisions with focus on statutory laws. In the third segment, she discussed the international human rights law framework for women. Her lecture mapped the inter-linkages between the national and international legal framework within the law-society interface.
Through this lecture, the Chevening Alumni India (CAI) aims to further the alumni engagement with this city and help build a bridge between the next generation in India and the UK.
Further information
CAI: Chevening is the UK government's international awards scheme. The fully sponsored Chevening scholarships and fellowships offer a unique opportunity for future leaders and decision-makers to develop professionally and academically, network extensively, and experience the UK. The CAI is a society of all the Chevening scholars and Chevening awardees in India. CAI, through a series of outreach programmes, including a 30-lecture series across India, is making an effort to introduce more and more professionals and students from India to this flagship scholarship and fellowship scheme.
Professor Ruchira Goswami teaches at the NUJS, Kolkata where she offers courses in Sociology of/and Law, Human Rights Law, Gender and Law, Child Rights and Film and Law. She is also the Head, Centre for Child Rights at NUJS. She has a post graduate degree in Human Rights from London School of Economics. She is a visiting lecturer in International Development Studies at the University of Oslo, and guest faculty at Jadavpur University and Calcutta University.
Media
For media queries, please contact:
Mainak De
Press, Communications & Political Engagement, East & NE India
British Deputy High Commission Kolkata
Tel: +91 98300 70623

Follow us on Twitter, Facebook, Flickr, Storify, Eventbrite, Blogs, Foursquare, Youtube, Instagram, Snapchat @UKinIndia, Periscope @UKinIndia
Document information
Published: 15 March 2017
Updated: 16 March 2017
Added translation
First published.