World news story
Chevening alumni lecture at Don Bosco University in Guwahati
The British High Commission with Chevening Alumni India held a lecture with students of Assam Don Bosco University Guwahati, 15 March 2017.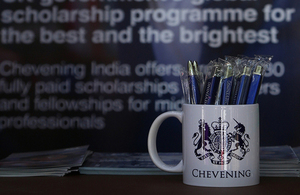 At the lecture titled 'Size matters: a journey to the nano-world', Professor Mallar Ray, Assistant Professor, School of Materials Science & Engineering (SMSE), Indian Institute of Engineering Science and Technology (IIEST) Shibpur, talked about fundamental aspects of nanomaterials and explained in detail why size rules properties at nanoscale.
Professor Ray brought a lively tone to a very core scientific topic and weaved through the intricacies of nano technology which will play an ever increasing role in the future. Nano technology is seen to dominate the future and will find application from the smallest medicare use to intricate role in space exploration.
Through this lecture, the Chevening Alumni India (CAI) aims to further the alumni engagement with this city and help build a bridge between the next generation in India and the UK.
Further information
CAI: Chevening is the UK government's international awards scheme. The fully sponsored Chevening scholarships and fellowships offer a unique opportunity for future leaders and decision-makers to develop professionally and academically, network extensively, and experience the UK. The CAI is a society of all the Chevening scholars and Chevening awardees in India. CAI, through a series of outreach programmes, including a 30-lecture series across India, is making an effort to introduce more and more professionals and students from India to this flagship scholarship and fellowship scheme.
Professor Mallar Ray is an Assistant Professor in the SMSE of IIEST, Shibpur. After completing his graduation and post-graduation in Physics from University of Calcutta he obtained a second post graduate degree from University of Nottingham, UK in 2003, as a British Chevening scholar. He pursued his doctoral degree in the area of silicon nanostructures. His research interest is focused on understanding size dependent properties of low dimensional materials with special focus on semiconductors and metals. He is a recipient of G C Jain memorial prize.
Media
For media queries, please contact:
Mainak De
Press, Communications & Political Engagement, East & NE India
British Deputy High Commission Kolkata
Tel: +91 98300 70623

Follow us on Twitter, Facebook, Flickr, Storify, Eventbrite, Blogs, Foursquare, Youtube, Instagram, Snapchat @UKinIndia, Periscope @UKinIndia
Published 15 March 2017