News story
Chevening Alumni in Turkey
British Consul General Leigh Turner held a reception for the Chevening alumni in Turkey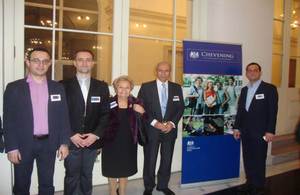 Following the reception held in Ankara by the British Ambassador David Reddaway, Chevening alumni in Turkey had a chance to meet at the British Consulate-General in Istanbul. Leigh Turner, British Consul General and Director-General of UK Trade and Investment (UKTI) in Turkey, Central Asia and South Caucasus, hosted the Chevening alumni reception on 8 March 2013 with the participation of 100 Chevening alumni and the British Consulate-General staff.
In his speech, Consul General Leigh Turner stated the importance of networking among the Chevening scholars as well as keeping the contact with the UK in Turkey upon their return from the UK.
One of the first British government scholars from Turkey, Filiz Ali (famous pianist and musicologist) made a speech in the reception, pointing out the importance of Chevening Program on her career and stated that the program was 'the turning point of her life'.
The Reception was organized in order to gather the Chevening alumni together and reactivate the alumni network in Turkey, which forms the largest network in Europe and includes the policymakers working in the public institutions, ministries and international organizations; academics from the prestigious universities and the leaders of business, finance and media.
Chevening Scholarship is the UK government's global scholarship program, funded by the Foreign and Commonwealth Office (FCO) and partner organisations. Since 1983, the Chevening program offers financial support to more than 41,000 students in 116 countries in order to study for Master's degree at the UK's leading universities.
For more information on Chevening Scholarships contact Chevening Turkey Office or visit Chevening in Turkey
Published 9 March 2013