World news story
Chevening Alumni Association of Punjab conducts a panel discussion on "The Role of Media in Conflict"
The discussion in the panel revolved around how media has been active in the conflict in the Middle East and in other areas around the world.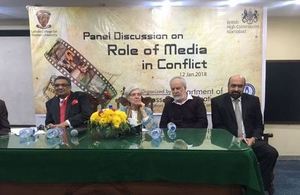 The Chevening Alumni Association of Punjab conducted a panel discussion on "The Role of Media in Conflict" at the Lahore College for Women University in collaboration with the Lahore College Media Department.
The panel members at the event comprised senior journalist Mr Sohail Warraich, Mr Rizwan Razi, and an eminent journalist and academia from the University of Westminster, Professor Jean Seaton.
Head of Communications at the British High Commission Samuel Heath said:
We are delighted to present this panel discussion at one of the oldest female institutions in Pakistan.

The UK recognizes the importance of media which is why we offer the Chevening South Asia Journalism Programme fellowship specifically for Pakistani journalists. Our one year Chevening Masters Programme also offers journalists the opportunity to study on a fully-funded programme at the top universities in the UK.

I would urge all relevant scholars to apply when the next application window opens.
Professor Jean Seaton said:
It is fascinating to be able to talk with aspiring journalists in Lahore, Pakistan where journalism is so vital to the future of the nation.
Further information
Chevening scholarships are awarded to outstanding emerging leaders to pursue a one-year master programme at any UK university. The scholarship programme provides a unique opportunity to future leaders, influencers, and decision-makers from all over the world to develop professionally and academically, network extensively, experience UK culture, and build lasting positive relationships with the UK.
The Chevening alumni consists of over 1,500 alumni which include senior journalists, civil servants, professionals, politicians, and members of society from all walks of life. The Chevening alumni in Pakistan works towards making a meaningful impact in the development of Pakistan.
Professor Jean Seaton is the official historian of the BBC, and Director of the Orwell Foundation. She has written widely on the media in conflict, the development of journalism, and the political consequences of reporting.
For updates on the British High Commission and for more information on the Chevening Programme, please follow our social media channels:
Contact
British High Commission
Islamabad
tel. +92 51 2012000

Published 19 January 2018