Chefs compete for glory in 'Operation Joint Caterer'
The event showcased the skills and talent of Services catering, with competitions ranging from cookery to silver service and centrepiece design…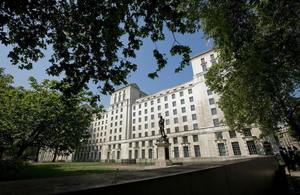 The event showcased the skills and talent of Services catering, with competitions ranging from cookery to silver service and centrepiece design testing Service personnel.
The highlight of the exhibition is the Combined Services Culinary Challenge - renamed 'Operation Joint Caterer' this year to reflect the fact that the skills on show are the same as those used on operations in Afghanistan.
In the three-day competition military chefs from across the Services battle it out in a series of challenges aimed at showcasing their talents and skills in the culinary field.
On Wednesday, extra spice was added to the proceedings when the Army teams were asked to compete against a Michelin-starred chef as well as their inter-Services colleagues.
Three teams of military chefs challenged TV chef Richard Phillips to create a number of dishes fit for Queen and Country using only ingredients found in ration packs used on the front line.
Using provisions found in the ten-man rations, the teams produced a number of mouth-watering dishes including chilli con carne, rice in nacho bowls and chicken pancake towers with onion rings.
Competitor Sergeant Muir Philip, from 40th Regiment Royal Artillery, based in Northern Ireland, said:
This competition is our bread and butter really; we use these provisions day-in day-out, especially on operations, so it was interesting to see what a TV chef would come up with. I think he did a good job.
Richard Phillips, who is a regular on ITV1's 'Daybreak' as well as 'Daily Cooks Challenge' and 'Ready Steady Cook', produced a gourmet menu of chicken pie, boulanger potatoes with a side dish of rosemary bread, and dessert of blackberry crumble with cream.
Richard said:
I have been so impressed by what I have seen today - not only the skills of the chefs but also their creativity in turning these rations into these fantastic dishes.

Food plays such an important part in keeping our boys and girls fit and motivated on the front line and so it is essential to have these highly skilled chefs on hand to make sure that what they get is the best.
Captain Jeremy Rigby, who is from Defence Equipment and Support and is in charge of delivering food to the front line, added:
Once again I have been amazed by the performance of our chefs and the range of dishes that they have produced using the rations.
Food is regarded as much more than just fuel for troops, and often a warm and hearty meal at the end of a challenging day is the one thing that the troops look forward to on operations.

Not only does it keep them healthy in body but in mind too and this is why our military chefs are trained to be the best so that they can serve the best.
Also attracting a lot of attention at the show was a display of the new lightweight patrol operational ration pack, currently being trialled in Afghanistan.
The new ration pack is designed for troops going out on ten- to 12-hour patrols and is half the weight of the existing 24-hour multi-climate ration pack.
New items in the box include beef jerky and, for the first time in a ration pack, a sandwich.
There is also a self-heating bag that can be used to warm up food. An individual flameless heater called 'Hot Pack' allows troops to heat the food pouches containing main meals to temperatures of up to 70 degrees.
Published 30 September 2010