Checking in with the Joint Air Mounting Centre
A good start to a journey is a boon for troops going on tour writes Ian Carr who visited the Joint Air Mounting Centre (JAMC).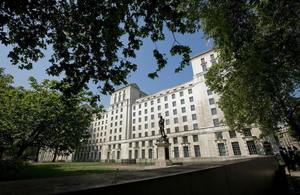 Hands up if you know where troops depart from in the UK to start their tours of duty in Afghanistan. Full marks if you said Brize Norton.
Now, for the tiebreaker, where do they check in? If your answer is again Brize Norton, you are out by about 30 miles (48km).
In fact, all units comprised of more than 50 passengers, wherever their destination might be, whether they are going on operations or on exercise, are processed by the JAMC at South Cerney in Gloucestershire.
There's a good reason why the check in and the aircraft steps are separated by 50 minutes of dual carriageway and country roads. It's all about taking the pressure off the busy air terminal while making sure that the passenger experience is as pleasant as it can be:
Much of the infrastructure at Brize was designed in the 70s," said Flight Lieutenant Tom Cousins, Officer Commanding of the JAMC.

And of course the tempo of today's operations and exercises is different. Our role is to take some of the pressure away from Brize Norton and identify and rectify any problems with passengers or freight before it affects departure times.
Easing the load on the airport's infrastructure, and the passengers' patience, by making use of the space and facilities at South Cerney makes perfect sense, especially since Brize has absorbed the capabilities that were once based at RAF Lyneham.
There may still be grizzled campaigners with horror stories of 11-hour report times with no break for a fag, but all that is a thing of the past. Today's travellers can expect a much slicker and more comfortable boarding experience.
Amenities might not quite rival those at Heathrow; there's no chance to browse round the duty free or pick up a cheap iPad, but give a soldier a free hot meal when he checks in, sofas to slump into after his scran and huge LCD tellies to watch the football on and you are on the way to having a happy traveller.
Thanks to Army and RAF benevolent funds passenger amenities have been boosted to include table tennis, table football, PlayStation 3 terminals, free internet and a kiosk selling snacks and hot drinks. The only drawback is that as the check in time has been halved, troops have less time to relax and enjoy it all:
Everything that we do is worked back from the estimated time of departure of the aircraft, and we have minimised the reporting time to four hours before departure," said Flight Lieutenant Cousins.
Not bad when you consider Heathrow advises travellers to the Middle East to report three hours before the scheduled flight time. And they don't have weapons, military kit and vehicles to deal with:
We work hard to balance the needs of the passengers with the imperative to get the aircraft away on time," said Flight Lieutenant Cousins. "The ramifications of delaying an aircraft are massive.
Once passengers have checked through into the departure lounge they are what the JAMC calls 'security clean'. When the time comes, they are transferred from South Cerney, by coach, right to the steps of the aircraft at Brize Norton:
Effectively, we are an air terminal without a runway. All of the air transport security checks are conducted by the RAF Police at the JAMC so no-one gets off the bus until they are at the aircraft," said Flight Lieutenant Cousins.
Being a joint facility means that the JAMC can bring together a range of Service skills and experience:
The majority of our customers are soldiers and marines," and yes, the JAMC does regard the troops passing through as customers, "so the Army component of our team really understands their requirements," said Flight Lieutenant Cousins.

And our RAF personnel bring in the experience of working at Brize, which means we have an all round understanding of the job.
Keeping passengers informed is key to things staying calm if delays occur, and, let's face it, with an ageing fleet of aircraft and with operational pressures bearing down, problems can and do occur. But if flight times do change, South Cerney has the accommodation and facilities to cope.
Being the boss at the JAMC has turned Flight Lieutenant Cousins into something of a self-confessed geek when it comes to travelling by civvy airline:
If there's a delay, I think they should be out here giving us a briefing, telling us what our feeding options are, when we are due back on, because as a duty air movements officer I'd be out there doing that.
When you start looking at the stats, it becomes even clearer why the South Cerney facility is so important. During the relief in place for HERRICK 16 the JAMC processed 5,586 operational passengers and 91,091kg of operational freight. In the first nine months of 2012 they had processed 15,000 passengers and 380,000kg of freight.
And there are units travelling on exercises to deal with as well:
A couple of weeks ago we had 750 passengers coming through with 30 tons of freight to go on exercise to Nairobi," said Flight Sergeant Paul Amies.
Troops may well pass through the JAMC to do their HERRICK pre-deployment training in Kenya, then pass through again four months later to head off to Afghanistan.
One of the JAMC's main roles is as a contingency asset for high readiness, rapid response units. If an airborne task force should be stood to at short notice they would mount through South Cerney.
Thanks to the facilities on offer, the troops can undertake all their battle preparations and mission planning right up to the time they have to check in, which could mean days.
The JAMC can act as a holding pen, so, if there is a special surge, troops can be held there ready to deploy, but if the decision to go changes they can be stood down and returned to unit without causing problems at the airport.
And, if priorities change, then equipment, vehicles and passengers can easily be reconfigured to suit the new deployment plan.
The JAMC's influence extends beyond the wire as the team proactively advises units about what they must do before arrival:
It's an important message we are trying to get out to the units," said Warrant Officer Class 2 Dom Dominy. "That you start your packing in good time and that we can provide specialist advice on things like what are prohibited items and how to process vehicles and dangerous goods.

We want to tell units how to get it right before they get here, not that they've got it wrong when they arrive.
And it seems that these days the guys are pushing on an open door. Perhaps because troops have now all experienced at least one deployment, they know it makes sense to do all they can to make their own lives as easy as they can.
Both Flight Sergeant Amies and WO2 Dominy have seen a big difference in attitude:
Ten years ago we would go out to brief a unit and we'd have guys there who had been made to turn up just to make the numbers up. Now they are really keen. The change in mindset has been phenomenal," said WO2 Dominy.
This article is taken from the November 2012 issue of Defence Focus - the magazine for everyone in Defence.
Published 8 November 2012