Press release
Check tidal conditions before setting out urge Swansea Coastguard
Three groups of people rescued after they were cut off by the tide.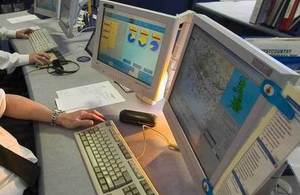 Swansea Coastguard is warning members of the public to check tidal conditions before setting out, after coordinating 3 separate incidents today (30 March 2014), all involving people who have been cut off by the tide.
At 4.30 this afternoon (30 March 2014), a man contacted Swansea Coastguard to report that he was concerned for the safety of 2 people who appeared to be cut off by the tide at Cefn Sidan Sands, near Burry Port. Burry Port RNLI inshore lifeboat was requested to launch, the Burry Port Coastguard Rescue Team attended and a rescue helicopter was scrambled. The 2 people were quickly located and recovered from the water by lifeboat. One of them was taken back to the lifeboat boathouse, whilst the second person, who was in a serious condition, was airlifted to hospital.
In 2 other incidents, 2 groups of people were cut off on Mumbles Middlehead Island and Sully Island. In both cases the people had walked along a causeway to the island and had misjudged the time that it would take to get back. Mumbles RNLI lifeboat picked up 3 people from Mumbles Middlehead Island and Penarth RNLI inshore lifeboat picked up 2 people from Sully Island and were met at the shore by Penarth Coastguard Rescue Team.
David Hughes, Swansea Coastguard Watch Manager says:
We have dealt with 3 incidents involving people being cut off by the tide today (30 March 2014), 1 of them extremely serious. We urge members of the public to check tide times before setting out, ensuring that they always leave plenty of time to return home before the tide starts to come back in.
Maritime and Coastguard Agency press office
Press enquiries 020381 72222 (Monday to Friday, 9am-5pm)
Outside these hours, for emergency press enquiries only please dial the above number. You will hear a message giving details of how to contact the on call press officer.
Published 30 March 2014