World news story
"Changing History. World War I and Namibia" exhibition launched in Windhoek
Museums Association of Namibia launches British High Commission funded exhibition "Changing History. World War I and Namibia" in Windhoek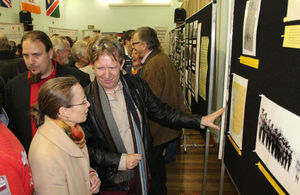 On 30 July, the Museums Association of Namibia and the Namibia Scientific Society launched the exhibition "Changing History. World War I and Namibia" in Windhoek.
The exhibition, originally launched on the 9th July 2015 at Khorab Lodge near the original site of the German surrender on 09 July 1915, was produced by the Museums Association of Namibia and History Students of the University of Namibia (UNAM). The successful launch in Windhoek was attended by the Deputy Permanent Secretary of the Ministry of International Relations and Cooperation, Amb. Lineekla Mboti, the chairperson of the the Museums Association of Namibia, Aaron Nambadi, the British High Commissioner to Namibia, HE Marianne Young, the Chargés d'affaires of the German Embassy, Ulrich Kinne, members of the Namibia Scientific Society, the UNAM's History Department, members of the Swakopmund Scientific Society, UNAM students, media and general public.
At the opening of the exhibition in Windhoek, HE Mrs. Marianne Young said: "Tonight, it is great to witness so many people coming together from various backgrounds and representing many countries including Germany, the United States of America, France, Russia, and countries from the Commonwealth India, Namibia and South Africa. Some of these countries weren't born at the time, but many endured 4 terrible years of conflict between 1914 and 1918. World War One was the bloodiest conflict the world had known. More than 17m soldiers and civilians were killed, including 750,000 British and Commonwealth troops. I would like to pay tribute to all who died to give us our freedom and enable us to entrench democracy, the rule of law, and promote our shared values around the globe."
See the full speech by HE Mrs Marianne Young here: Speech by HE Marianne Young on occasion of WWI exhibition in Windhoek (MS Word Document, 19.5KB)
As part of the UKs Foreign and Commonwealth Office's First World War Centenary Commemoration Programme activities, the project, funded with 89000,- N$, created an educational opportunity for young Namibian history students in the form of conceptualizing a mobile exhibition, documenting the impact of WWI on Namibia and how the war significantly changed Namibian history. The mobile exhibition will be made available to museums and schools throughout Namibia.
The exhibition features information about some of the forgotten battles, such as Sandfontein, Trekkopies and Gibeon, and will reveal the impact of the war on local communities.
Published 3 August 2015