Changes to Legalisation Office procedures
Foreign Office Minister Jeremy Browne announced plans to reduce the processing time for legalisation applications from 48 to 24 hours.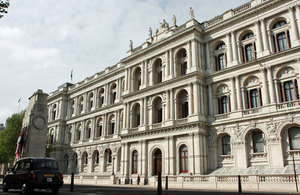 In a written statement to Parliament the Foreign Office Minister said:
From 1 April 2011 the Foreign and Commonwealth Office (FCO) Legalisation Office in Milton Keynes will only accept applications received by post and will process all straight forward applications within 24 hours (excluding postal times). Updated guidance on how to submit applications will be on the Legalisation Office website from 1 March.
A majority of customers already send their applications by post - they will see the turnaround time halved from 48 to 24 hours. A third of customers come to the office in person - they will now need to submit their applications by post.
10% of customers are businesses who currently have their applications processed within 24 hours. Business customers who submit large volumes of documents on a daily basis can pre-register to have access to a drop-off and pick-up facility at Milton Keynes with the same 24 hours turnaround. There will be no charge to customers for this service. There will be no change to the service offered at the Legalisation Office at Centre Point in central London which serves business customers only.
This change is driven by a desire to ensure that we can provide the most efficient service possible. At present these three different service-levels are offered all for the same price. This change moves to a single service-level for a single price. Over time the changes may also deliver efficiency savings by removing the costs associated with maintaining a public area.
Legalisation is the official confirmation that the signature, stamp or seal on a UK document is genuine. The legalisation does not certify the authenticity of a document or give Foreign and Commonwealth Office approval of its content. Legalisation is usually required by foreign authorities before they will allow a UK document to be used for official purposes in their country. The Legalisation Office is the only competent authority in the UK to issue legalisation or apostille certificates in the UK.
Published 16 February 2011