Changes to funding allocations for 2015 to 2016
We have today (Monday 20 July) communicated to colleges and training organisations the impact on FE and skills of savings required across government.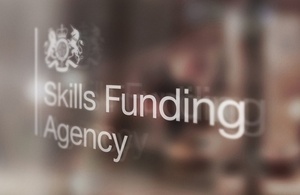 Apprenticeships remain the government's top skills priority: they are critical in ensuring people have a high quality training route in their chosen career. The new apprenticeship levy is evidence of the government's commitment to the programme and we are dedicated to achieving 3 million apprenticeship starts over the life of this parliament. In achieving these savings, we continue our commitment to apprenticeships and have sought to minimise the impact on participation budgets.
We can confirm that we will fund all current apprenticeship growth requests for the 2014 to 2015 funding year.
We are reducing non-apprenticeship adult skills and discretionary learner support allocations by 3.9% for colleges and training organisations in the 2015 to 2016 financial year (April 2015 to March 2016).
To enable colleges to reflect the changes in their financial plans, we will allow colleges to submit an updated plan, where they believe this is necessary, by 30 September 2015 (in addition to the plan they are required to submit in July).
We have set all this out in a letter to the sector from our Chief Executive - see below.
Changes to funding allocations for 2015 to 2016 (PDF, 258KB, 4 pages)
Published 20 July 2015