News story
Changes to Defra's Departmental Board
Two new ex officio members are joining the Defra Board.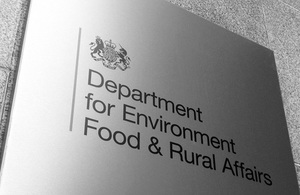 Defra is introducing some changes to its departmental board to improve the delivery of our services.
As part of these changes, Sir Philip Dilley, Chair of the Environment Agency, and Andrew Sells, Chair of Natural England, are joining the Defra Board in an ex officio capacity.
The Board consists of the Ministerial team, Executives, Non-Executive Directors and the two new ex officio members and is chaired by the Secretary of State.
It provides advice on issues such as strategy and the deliverability of policies and scrutinises the department's performance.
Published 19 October 2015