Changes to Consular services which are charged for announced
Foreign Office Minister Jeremy Browne announced the changes to services in a written statement to Parliament on 22 March.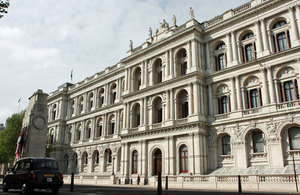 In the written statement the Foreign Office Minister said:
In addition to its assistance to British nationals in distress, the Foreign and Commonwealth Office (FCO) provides a range of consular services to British nationals who live, work and conduct business overseas. On 16 March 2011 Her Majesty in Council approved the Consular Fees Order 2011. Part I of that Order, which has been deposited in the Library of the House, sets what the FCO charges for these services (and for Emergency Passports, Travel Documents, and transferring money to those in distress overseas) from 6 April 2011. At the same time the FCO is also making broader changes to these services, most of which will affect very few British nationals.
From 6 April 2011 we will no longer provide as standard some niche administrative services. We will cease offering searches in foreign archives for personal documents, such as for foreign birth certificates. Modern communications allow customers to approach the relevant authority themselves, and where necessary we will offer guidance on how to do this. We will no longer automatically offer management of estates overseas for the deceased; instead, we will provide customers the details of local lawyers who are better placed to provide this service. And we will stop offering translation or interpretation on notarial services, instead putting customers in touch with expert local translators and interpreters.
These changes should contribute to reducing the time consular officers spend processing documents and increase the time they have to focus on the most vulnerable in most need of assistance. They will not diminish the FCO's assistance to British nationals in distress nor its crisis response capability, including its ability to assist and evacuate British nationals from a country or region.
It is right that, as a general principle, those who benefit from consular services should meet the cost of them, rather than the general taxpayer. The increases to the fees in Part I of the Order will result in income from the fees increasing by 3.85%. Some fees are reduced, and some are increased by more than this amount. The new fees represent the full economic cost of what we do, and will ensure that British Missions continue to provide a high standard of service to consular customers. They are also a sensible rationalisation of the structure of the fees charged.
Fees in Part II for passport applications made in the United Kingdom and overseas remain at current levels.
Fees in Part III for receiving applications for entry clearance to Commonwealth countries, British overseas territories and Crown Dependencies continue to be charged in the Order. These fees are "Home Office fees" and are approved by the Home Office Minister but are still contained within the Consular Fees Order.
Published 22 March 2011