News story
Change to documents required for a first registration
From 7 September we are changing the documents we require when a customer applies to register a first registration.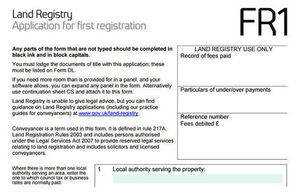 If the first registration application is based on a statutory declaration or statement of truth, customers will no longer need to send us any original documents if:
title documents are unavailable, or
title is claimed by reason of adverse possession of unregistered land
We have published a 'registrar's direction' that confirms the new requirements.
If some, but not all of the deeds and documents relating to the title are in the control of the applicant, this direction does not apply. In these cases, the original deeds and documents must accompany the application, along with a statutory declaration or statement of truth relating to the missing deeds and documents.
This guidance only applies for applications lodged by post, document exchange and personal delivery.
This change brings the requirements for first registration closer to the requirements for other types of application. We expect customers will find it easier to send us the required information and it will be easier for us to process applications by reducing the volume of original documents we handle.
Published 3 September 2015