Change of Visa Application Centre in Belgrade, Serbia
Information on changes to the visa service that we offer.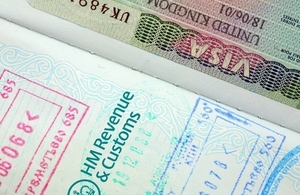 UK Visas and Immigration's new commercial partner Teleperformance Ltd have now taken over the running of our Visa Application Centre in Belgrade. The Visa Application Centre will remain at the same location:
Teleperformance Limited, Airport City, Omladinskih brigada 88 11070 New Belgrade
In addition we are making the following changes to the visa service that we offer:
The Visa Application Centre will be open from Monday to Friday between 0830 and 1600.

The following additional services will be available from Belgrade. All charges will be payable in Euros using our consular rate of exchange. Further details on all of the services, including eligibility criteria, will be available on the Teleperformance Website once you have registered:

Premium Lounge Service - £90 - This service includes direct access to Teleperformance premium counter where an agent will verify the documents provided, and capture your biometric information in a single location. Hot and cold beverages will be available and there will be a personal attendant during the course of your submission process. There will also be free photocopying (limited quantity), email printing, and computer access

Priority Visa Service – £100 – allows you to have your visa application placed at the front of the queue by UK Visas & Immigration normally enabling a decision within 3-5 working days

Return courier £8.00 – allows you to receive your decision by courier to your chosen address rather than returning to the Visa Application Centre to collect it.
If you require further information regarding UK Visa Services, please visit this website
From 1 April 2014 UK visa customers will be able to use our new international enquiry service to find information about the visa application process. The following services are available:
Email contact service: a web form enables customers to make email enquiries
Webchat: customers can access a real time webchat with an agent for a charge of £4 a session
Telephone contact service: speaking to an advisor will cost £1.37 plus the cost of the call. Call costs will vary depending on the call type, the customer's tariff and local charges.
The service is provided by Hinduja Global Solutions (HGS) working in partnership with UK Visas and Immigration to provide enquiry services to people applying for a visa.
Published 26 March 2014