News story
Change of UK's Permanent Representative to the United Nations and World Trade Organisation in Geneva
Miss Karen Elizabeth Pierce CMG has been appointed the UK's Permanent Representative to the UN and World Trade Organisation in Geneva.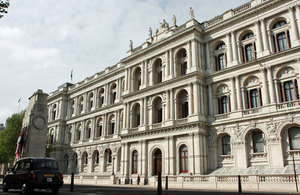 She will succeed Mr Peter Olaf Gooderham CMG who will be transferring to another Diplomatic Service apointment.
Miss Pierce will take up her appointment during Spring 2012.
Miss Pierce will hold the personal rank of Ambassador.
She joined the FCO in 1981 and has served in Tokyo and Washington and the UK Mission to the UN in New York. She has a wide range of bilateral and multilateral experience, particularly on conflict and related issues. While in New York she was also closely involved in the 2008 MDG Summit. In her current role as Director, Afghanistan and South Asia at the FCO she has focussed on stability, security and prosperity in Afghanistan and Pakistan in particular.
On her appointment as the United Kingdom's Permanent Representative to the United Nations and World Trade Organisation in Geneva, Miss Pierce said:
"I am honoured and excited to have the opportunity to lead a mission whose work addresses some of the world's biggest challenges - supporting humanitarian assistance, advancing disarmament, promoting human rights, improving global health and food security, and facilitating the growth in global trade. These issues are central to many of the British Government's priorities. Success in creating an open, fair and sustainable system of global trade in particular is of vital importance to the UK and to so many of our international partners. "
Curriculum vitae
Full name:
Karen Elizabeth Pierce
Married to:
Charles Roxburgh
Children:
2 boys, born 1991 and 1997
August 2009 - present
FCO, Director, South Asia and Afghanistan (UK Special Representative for Afghanistan and Pakistan June 2010-June 2011
2006 - April 2009
UKMIS New York, Deputy Permanent Representative and Ambassador
2003 - 2006
FCO, Balkans Co-ordinator & UK Representative on Contact Group
2000 - 2001
FCO, Head of EU Department, Bilateral and concurrently after 9/11 FCO, Head of Afghanistan Political Military Unit
1999 - 2000
FCO, Head of Newsroom
1997 - 1999
FCO, Eastern Adriatic (Balkans) Department, later Deputy Head of Department
1996 - 1997
FCO, Team Leader for Ukrain, Belarus and Moldova
1992 - 1995
Washington, Private Secretary
1987 - 1991
FCO, Security Policy Department
1984 - 1987 Tokyo, Third Secretary, following Japanese language training
1981 Joined FCO
Published 5 August 2011