News story
Change of travel advice for Japan
The Foreign Office no longer advise against all but essential travel to Tokyo.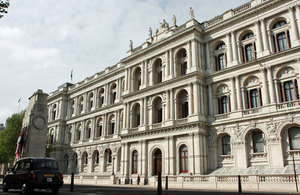 The Foreign Office has today revised its travel advice for Japan. We no longer advise against all but essential travel to Tokyo. However, we continue to advise against all but essential travel to those areas north east of Tokyo most directly affected by the earthquake and the tsunami.
The decision to revise the travel advice for Japan was taken on 5 April at a meeting chaired by the Foreign Secretary in the Cabinet Office Briefing Room (COBR).
The Government Chief Scientific Adviser, Sir John Beddington presented the latest assessment by the Scientific Advisory Group for Emergencies (SAGE) on the situation at the Fukushima nuclear facility. SAGE has updated its analysis in the light of the changing situation, and continues to advise that there is no serious radiation risk to residents of the Tokyo Metropolitan area as a result of any further deterioration at the plant.
The Japanese authorities continue to provide regular updates on developments at Fukushima. This includes actions being taken to stabilise the reactor units at the Fukushima Daiichi Nuclear Power Plant and to minimise the release of radioactive material into the local environment. We recognise that at times a controlled release may be necessary but it does not affect the overall assessment in the Travel Advice. The risks are gradually declining as the reactors cool and as facilities to stabilise them are established.
Our travel advice for Japan will be kept under constant review and informed by the latest scientific assessments from the Government Chief Scientific Adviser and SAGE.
British nationals should continue to monitor local media for real time information and the FCO website for existing advice and further updates to travel advice - http://www.fco.gov.uk/en/travel-and-living-abroad/travel-advice-by-country/asia-oceania/japan
Published 6 April 2011