Press release
Change of High Commissioner to Cyprus
Mr Ric Todd has been appointed British High Commissioner to Cyprus.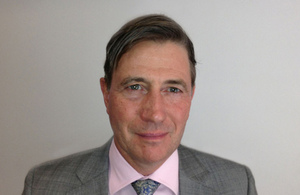 He will succeed Mr Matthew Kidd, who will be transferring to another Diplomatic Service appointment. Mr Todd will take up his appointment during August 2014.
Mr Todd joined the FCO in 1980 and is currently Governor of the Turks and Caicos Islands. His FCO career has mainly covered a range of jobs dealing with economics, finance and EU issues in London and in diplomatic posts, including 5 years in HM Treasury and 3 years on the FCO Board as Finance Director.
He is a former Ambassador to Poland and to Slovakia and UK Member on the EU Economic Policy Committee.
On his appointment as British High Commissioner to Cyprus, Mr Todd has said:
I am delighted to be appointed British High Commissioner to Cyprus. As a history student I am fascinated by Cyprus's rich history. Relations between the UK and Cyprus are not only deep rooted and strong but also full of potential.
I look forward to working together with all the communities in Cyprus to achieve our shared objectives.
Curriculum vitae
| Personal details |   |
| --- | --- |
| Full name: | Damian Roderic Todd |
| Period | Post |
| --- | --- |
| 2011 – present | Governor, Turks & Caicos Islands |
| 2007 – 2011 | Warsaw, Her Majesty's Ambassador and Regional Director for the nine Posts in the Central Europe Network |
| 2004 – 2007 | FCO, Finance Director |
| 2001 – 2004 | Bratislava, Her Majesty's Ambassador |
| 1999 – 2001 | UK Member on the EU Economic Policy Committee |
| 1995 – 1997 & 1998-2001 | HM Treasury, Head of two EU policy departments |
| 1997 – 1998 | FCO, Deputy Head of Economic Relations Dept |
| 1991 – 1995 | Bonn, First Secretary (Economic) |
| 1989 – 1991 | FCO, Economic Relations Department |
| 1987 – 1989 | Prague, HM Consul and First Secretary |
| 1985 – 1987 | FCO, European Community Department |
| 1981 – 1984 | Cape Town/Pretoria, Second Secretary |
Further information
Follow the Foreign Office on twitter @foreignoffice
Follow the Foreign Office on facebook and Google+
Published 29 August 2013