Change of High Commissioner to Australia
Mr Paul Madden has been appointed British High Commissioner to Australia.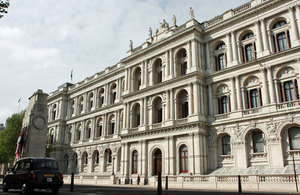 He will succeed Baroness Amos. Mr Madden will take up his appointment during January 2011.
Mr Madden has been British High Commissioner in Singapore since 2007. He joined the FCO in 1988 and has spent much of his career in Asia, serving in Singapore (twice), Washington DC and Tokyo. He was Managing Director at UK Trade & Investment from 2005-7 and Head of Public Diplomacy at the FCO from 2003-5. He has also worked on EU and Climate Change issues at the FCO. He worked at the Dept of Trade & Industry in the early 1980s, including two stints as a minister's private secretary.
He has an MA in Economic Geography from Cambridge, an MBA from Durham, studied Japanese at London University's School of Oriental and African Studies, and is a Fellow of the Royal Geographical Society. His first book "Raffles: Lessons in Business Leadership" was published in 2003. He is married to Sarah and has three teenage children.
On his appointment as High Commissioner to Australia, Mr Madden has said:
"I am delighted and honoured to be taking up this appointment in Australia, a fantastic country which I have visited many times to see family and friends. Australia is a close partner of the UK in international groupings like G20 and the Commonwealth, and across a very wide range of areas including defence, security, economics, trade and investment. The government to government relationship is reinforced by many personal ties: millions of our citizens visit each other's countries and although we're on opposite sides of the globe we always feel like neighbours."
CURRICULUM VITAE
Full name:
Paul Damian Madden
Married to:
Sarah Pauline Thomas
Children: Three
2007-present Singapore, British High Commissioner
2005-2007 UK Trade & Investment, Managing Director, Sectors Group
2003-2005 FCO, Head, Public Diplomacy Department
2000-2003 Singapore, Deputy High Commissioner
1996-2000 Washington, First Secretary Trade Policy
1994-1996 FCO, Team Leader, European Union Department
1992-1994 FCO, Team Leader, Environment Team
1988-1992 Tokyo, First Secretary Economic
1987-1988 Japanese language training
1986-1987 DTI, Head Japan Team
1985-1986 DTI, Private Secretary to Minister for Corporate Affairs
1984-1985 DTI, Private Secretary to Minister for Small Business
1980-1984 DTI, Various fast stream appointments
1980 Joined Civil Service Fast Stream
Published 19 November 2010