Change of Her Majesty's Consul General to Hong Kong
Ms Caroline Wilson has been appointed Her Majesty's Consul General to Hong Kong Special Administrative Region of the People's Republic of China and Non-Resident Consul General to Macau.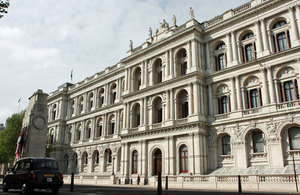 She will succeed Mr Andrew Seaton who will be transferring to another Diplomatic Service appointment. Ms Wilson will take up her appointment during September 2012.
Ms Wilson joined the FCO in 1995. Her first posting was to Beijing in 1997 where her portfolio included Hong Kong and she participated in the Sino-British Joint Liaison Group. She has since served in Brussels at the United Kingdom's Permanent Representation to the EU, as Private Secretary to the Foreign Secretary, and as Deputy Director in the European and Global Issues Secretariat of the Cabinet Office. Most recently Caroline was posted to Moscow as Director of UK Trade and Investment (Russia) and Counsellor for Economic issues. Before joining the FCO, she qualified as a Barrister at Law.
On her appointment Ms Wilson said:
"I am delighted to be appointed Her Majesty's Consul General to the Hong Kong and Macao Special Administrative Regions of the People's Republic of China. Britain's relationship with China is broader and deeper than ever before. Nothing reflects this better than the unique links between the United Kingdom and Hong Kong. Our prosperity is increasingly intertwined with strong two way trade and investment flows, and flourishing cultural, educational, financial and legal ties. We also have a special commitment to Hong Kong under the Sino-British Joint Declaration. 15 years after I first worked on Hong Kong issues it is inspiring to see how successful the "One Country, Two Systems" principle has proved. I look forward to returning to China and to pursuing this wide agenda. And I am thrilled to have the chance to explore first-hand the dynamism that is Hong Kong."
Curriculum vitae
Full name:
Caroline Elizabeth Wilson
July 2008 - present
Moscow, Director UK Trade and Investment (UKTI) Russia/ Counsellor (Economic, Science & Innovation, Climate)
July 2006 - Dec 2007
Cabinet Office, Deputy Director in the European Secretariat
Sept 2004 - July 2006
FCO, Private Secretary to the Foreign Secretary
Mar 2001 - Aug 2004
First Secretary (Antici) at the UK's Permanent Representation to the European Union
Sept 1997 - Sept 2000
Beijing, First Secretary
Sept 1996 - Sept 1997
Beijing, full time Mandarin language training
Sept 1995
FCO, Desk Officer (Eastern Department)
Published 21 March 2012