Change of Her Majesty's Ambassadors to Armenia
Mr Jonathan James Aves and Ms Katherine Jane Leach, a husband and wife team, have been appointed Her Majesty's Joint Ambassadors to the Republic of Armenia.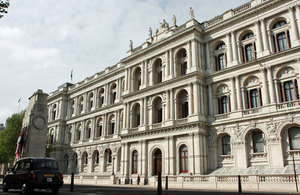 They will succeed Mr Charles John Lonsdale, who will be transferring to another Diplomatic Service appointment. Mr Aves and Ms Leach will take up their appointment during January 2012. Both Mr Aves and Ms Leach will be permanently resident in Yerevan and alternate in exercising the functions of Ambassador on a four-monthly rotation.
Mr Aves and Ms Leach joined the FCO in 1996 and 2000 respectively, following careers in academia and public opinion research. Together they have many years' experience and knowledge of the history, languages and culture of the South Caucasus and the wider region. Their FCO careers have covered a range of policy areas including security policy, EU trade and development, energy security and human rights. Most recently they had a joint posting to Tokyo where Mr Aves coordinated UK's political input into Japan's 2008 G8 Chairmanship and Ms Leach coordinated UK and Japanese positions in advance of the UN climate change summit in Cancun and worked with UK and Japanese business to promote low carbon prosperity. In 2011 Mr Aves worked on the UK's input into the UN Human Rights Council on issues such as Libya, Syria and Iran.
On their appointment Mr Aves and Ms Leach said:
"We are delighted to be appointed Joint Ambassadors to Armenia. We believe that our combined energy and experience will give a fresh impetus towards making the traditionally warm bilateral relations between the UK and Armenia even closer. We believe that when our two countries work together they can make a real contribution to our mutual prosperity and security."
Curriculum vitaes
Mr Aves and Ms Leach have three children and live in Brentwood, Essex.
Full name: Jonathan James Aves
2011 Head of UN Team, Human Rights and Democracy Department, FCO
2006-2011 Head of Political Section, British Embassy, Tokyo
2004-2005 Head of Political and Human Rights Section, Iraq Policy Unit, FCO
2000-2004 First Secretary Political, British Embassy, Moscow
1996-2000 Research Analyst on South Caucasus and Central Asia, FCO
Full name Katherine (Kathy) Jane Leach
2007-Jan 2011 Head of Energy and Environment Team, British Embassy Tokyo
2005-2007 Japanese Language Training, FCO
2005 Deputy Head of Passports and Documentary Services, Consular Directorate, FCO
2003-2004 First Secretary Internal Political, British Embassy, Moscow
2002-2003 Head of External Political Section, British Embassy Moscow
2000-2001 Desk Officer, EU Trade and Development Policy, FCO
Search the news archive
Published 15 August 2011