Change of Her Majesty's Ambassador to Yemen
Mr Jonathan Wilks has been appointed Her Majesty's Ambassador to the Republic of Yemen.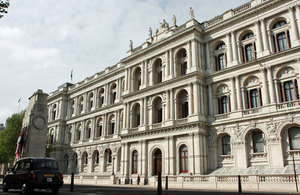 He will succeed Mr Timothy Torlot who will be transferring to another Diplomatic Service appointment. Mr Wilks will take up his appointment during October 2010.
Mr Wilks joined the Diplomatic Service in 1989 and began his career as a desk officer in the Middle East Department. Two years full time Arabic language training followed, which led to postings in Sudan and Saudi Arabia.
Having spent an absorbing 9 years on Middle East and North African affairs, he chose in 1999 to take unpaid leave to pursue related academic studies, gaining an MA in Middle East Politics from Durham and an M.Phil in International Relations from St Antony's College, Oxford.
On returning to diplomacy in 2002 he volunteered to serve on temporary duty as Deputy Head of Mission in Afghanistan. Later in 2002 he was seconded to the Cabinet Office Assessments Staff as an Iraq analyst and followed this in April 2003 with a diplomatic posting as deputy head of the team that reopened the British mission in Baghdad after the Iraq war. After 7 months in Baghdad, he returned to FCO in 2004 working in the Iraq Policy Unit.
In 2005 he entered a new field, joining the FCO's Political/Military team as Deputy Head of Security Policy Group, working on policy on the UK nuclear deterrent, ballistic missile defence and conventional arms control.
In 2007 he returned to his main area of expertise, as the UK Government's first regional Arabic Spokesman, based in Dubai and travelling throughout the Arab world, engaging with the Arab media in interviews, chat shows and debates on British policy in the Middle East and Arab and Islamic issues. In 2009, he returned to Baghdad as Deputy Head of Mission, finishing in July 2010.
On his appointment as Her Majesty's Ambassador to Yemen, Mr Wilks said:
"I am honoured and delighted to be taking up this post at a time when both countries are attaching increased importance to their bilateral relations. I will be working hard for an effective bilateral partnership that strengthens the security, stability and prosperity of both our countries."
Curriculum vitae
Full name:
Jonathan Paul Wilks
Jun 2009-Jul 2010
Baghdad, Deputy Head of Mission
2007-2009 Dubai, British Government Arabic Spokesperson
2005-2007 FCO, Deputy Head, Security Policy Group
2004-2005
FCO, Deputy Head (Political), Iraq Group
2003 Baghdad, Deputy Head, British Office
2002-2003 Cabinet Office (secondment), Iraq Analyst, Assessments staff
1999-2002 Special unpaid leave (Academic sabbatical)
1996-1999 Riyadh, First Secretary (Economic)
1993-1996 Khartoum, Second Secretary (Political and Press and Public Affairs
1991-1993 London and Cairo, Full time Arabic language training
1990-1991 FCO, Assistant Desk Officer Iran, Middle East Department
1989 Joined FCO
Published 29 September 2010