Change of Her Majesty's Ambassador to Ukraine
Mr Simon Smith has been appointed Her Majesty's Ambassador to Ukraine in succession to Mr Leigh Turner who will be transferring to another Diplomatic Service appointment.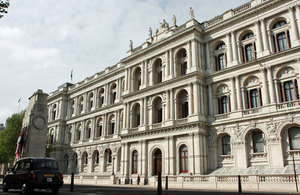 Mr Smith will take up his appointment during late summer 2012.
Simon Smith studied Modern Languages at Oxford University and joined the FCO in 1986. For the last four years he has been HM Ambassador to Austria and the UK's representative to many of Vienna's UN and international organisations, including as the UK's Governor on the Board of the International Atomic Energy Agency.
Tokyo, Moscow and London have been the other focal points of a career in which he has worked on a broad range of political, security policy and economic/energy policy issues, and in trade and investment promotion. He is married to Sian Stickings, a lawyer. They have two daughters.
On his appointment as Her Majesty's Ambassador to Ukraine, Mr Smith said:
"I am thrilled to have been appointed Britain's next Ambassador to Ukraine. I've been fascinated by Ukraine, and its unique place in European geography and history, ever since my first visit to Kyiv in 1994. I've often enjoyed working fruitfully with Ukrainian colleagues in multilateral diplomacy, and my wife and I look forward to an equally rewarding partnership building further on the UK's substantial and important relationship with Ukraine."
Curriculum vitae
Full name:
Simon Smith
Married to:
Sian Stickings
Children: Two daughters
July 07 - present
Her Majesty's Ambassador to Austria; UK Permanent Representative to the UN and other International Organisations; Governor, International Atomic Energy Agency
July 2004 - May 2007 FCO, Director, Russia, South Caucasus and Central Asia
June 2002 - July 2004 FCO, Head, North East Asia & Pacific Department
April 1998 - June 2002
Moscow, Counsellor, Economic, Trade & Investment/Science and Technology
Dec 1997 - March 1998
Russian language training
June 1995 - Dec 1997 FCO, Deputy Head, South European Department
Apr 1994 - June 1995
FCO, Policy Planning Staff
Oct 1992 - Apr 1994
FCO, Head of Nuclear Policy Section, Security Policy Department
Sept 1989 - Oct 1992
Tokyo, 2nd Secretary later 1st Secretary (Economic)
Sept 1987 - Sept 1989
Japanese language training
Sept 1986 - Sept 1987
FCO, Assistant Desk Officer, East Africa Dept
Sept 1981 - Sept 1986
Department of Employment
Published 13 October 2011