News story
Change of Her Majesty's Ambassador to the Sultanate of Oman
Mr Jamie Bowden has been appointed Her Majesty's Ambassador to the Sultanate of Oman.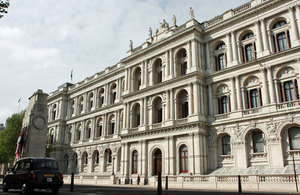 He will succeed Dr Noel Guckian OBE who will be transferring to another Diplomatic Service appointment. Mr Bowden will take up his appointment during September 2011.
Jamie Bowden joined the FCO from the Army in 1986. He has served in a number of home and overseas appointments, mostly in the Arab world. This is his second Ambassadorial appointment: he is currently Her Majesty's Ambassador to the Kingdom of Bahrain.
On his appointment as Her Majesty's Ambassador to the Sultanate of Oman, Mr Bowden has said:
"I am delighted and deeply honoured to be appointed as Her Majesty's Ambassador to Oman. I much look forward to assuming my duties and to working in a country with which the United Kingdom has such an outstandingly warm and strong relationship"
Curriculum vitae
Full name:
Jamie Nicholas Geoffrey Bowden
Married to:
Sarah Bowden
Children:
Five
2006-Present
Bahrain, Her Majesty's Ambassador
2004-2005
Baghdad, Deputy Head of Mission Baghdad (six months detachment from Kuwait)
2003-2006
Kuwait,Deputy Head of Mission
2002-2003
Cabinet Office
1999
Riyadh, First Secretary (Economic and Commercial)
1996
Washington, First Secretary (Political) (covering Middle East affairs and counter terrorism policy)
1993
FCO, Head of Political Section, UN Department
1991
Khartoum, Second Secretary (Political and Information)
1990
Deputy, later Acting, CG Aden
1988
London and Cairo, Full-time Arabic Language training
1987
FCO, Desk Officer, Republic of Ireland Department
1986
Joined FCO
1980
Army Officer, The Royal Green Jackets
Published 11 February 2011