News story
Change of Her Majesty's Ambassador to the Republic of Senegal
Mr Robert John Marshall has been appointed Her Majesty's Ambassador to the Republic of Senegal.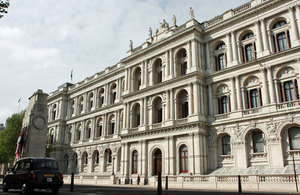 He will succeed Mr Christopher John Trott who will be transferring to another Diplomatic Service appointment. Mr Marshall will take up his appointment during May 2011.
Mr Marshall joined the FCO in 1988 and is currently serving as the Deputy Head of Mission at the British Embassy in Addis Ababa. In Addis he has been actively engaged on a broad range of security, conflict, governance and development issues in the Horn of Africa region. Earlier postings were in Tokyo and Kuala Lumpur where he focussed on political and economic work. He has experience of working on many of the global issues on which the international community is engaged including sustainable development, climate change, and migration.
On his appointment as Ambassador to the Republic of Senegal, Mr Marshall has said:
"I am honoured and delighted to be appointed Her Majesty's Ambassador to the Republic of Senegal. Senegal has a proud history and makes a significant contribution to the region and beyond. I look forward to developing the UK's bilateral relationship with Senegal, including in the area of trade and investment, and to working with the Government of Senegal on a broad agenda of shared priorities in the region.
On a personal note I am very much looking forward to returning to West Africa - where I last lived as a student - and to discovering more about Senegal, its people and its culture, with my family".
CURRICULUM VITAE
Full name:
Robert John Marshall
Married to: Marie Glanfield
Children: Three
06/07-present Addis Ababa, Deputy Head of Mission
04/06-12/06 FCO, Special Project, Migration Directorate
02/06-04/06 FCO, Deputy Head, Climate CHange and Energy Group
06/04-02/06 FCO, Deputy Head, Sustainable Development and Commonwealth Group
09/03-06/04 FCO, Head, Caribbean Team
01/00-06/03 Kuala Lumpur, Head of Political, Economic and Public Diplomacy Section, United Nations Department
11/97-10/99 FCO, Head of Political Section, United Nations Department
11/95-11/97 FCO, Head of India, Nepal and Bhutan section, South Asian Department
09/92-10/95 Tokyo, Second Secretary Economic/Political
09/90-08/92 Full-time Japanese Language Training (SOAS and Kamakura)
09/88-09/89 FCO, Desk Officer, Southern African Department
1988
Joined FCO
Published 11 November 2010