News story
Change of Her Majesty's Ambassador to the Republic of Lithuania
Mr David Hunt has been appointed Her Majesty's Ambassador to the Republic of Lithuania.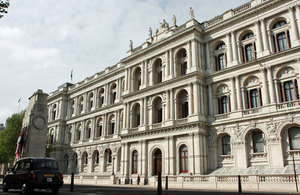 He will succeed Mr Simon Butt who has retired from the Diplomatic Service. Mr Hunt will take up his appointment on 27 June.
Mr Hunt joined the FCO in 2001 from the Private Sector and was most recently Deputy Head of Conflict Department at the FCO in London. He has previously worked in a range of FCO positions, focussing on security policy as well as bilateral relations.
On his appointment as Her Majesty's Ambassador to the Republic of Lithuania, Mr Hunt said:
"I am honoured to be taking up this posting. I very much look forward to working in partnership with the Government of Lithuania on a wide range of issues of mutual interest - both bilaterally and through multilateral forums such as the EU, OSCE and NATO, in which we both place significant importance. I also look forward to actively supporting the growing trading links between our two countries."
CURRICULUM VITAE
Full name:
David Hunt
Married to:
Sarah Hunt
Children:
One son and one daughter
Mar 2008-present
FCO, Post Deputy Head of Conflict Department
Apr 2005-Mar 2008
British Embassy Zagreb, Deputy Head of Mission/Consul General
Mar 2003-Dec 2004
FCO, Head of Sanctions Unit, United Nations Department
Oct 2001-Mar 2003
FCO, Head of United States section, North America Department
October 2001
Joined FCO
Published 17 May 2011