News story
Change of Her Majesty's Ambassador to the Republic of Guatemala
Mrs Sarah Margaret Dickson has been appointed Her Majesty's Ambassador to the Republic of Guatemala and Non-Resident Ambassador to the Republic of Honduras.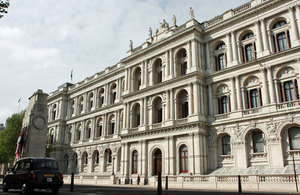 She will succeed Ms Julie Louise Jo Chappell OBE who will be transferring to another Diplomatic Service appointment. Mrs Dickson will take up her appointment during June 2012.
Mrs Dickson joined the FCO in 1995 and has spent most of her diplomatic career in Spanish speaking countries serving in Buenos Aires and Madrid. She has a wide range of bilateral and multilateral experience, particularly on justice and security related issues.
On her appointment as Her Majesty's Ambassador to the Republic of Guatemala and Non- Resident Ambassador to the Republic of Honduras, she said "It is an honour to be appointed Ambassador to these two vibrant and dynamic countries. My focus will be to deliver through partnerships and close cooperation the Foreign Secretary's commitment to strengthening the UK's presence in the region. I am delighted to be returning to Latin America and I know I will enjoy working with the excellent staff in Guatemala and Honduras."
Curriculum vitae
Full name
Sarah Margaret Dickson
Married to:
Philip Antony Dickson
Children:
One daughter born 2008
July 2010 - present MBA Studies and Internships
Sept 2009 - July 2010 British Embassy Madrid, Chief of Staff during Spanish Presidency of the EU
Sept 2008 - Sept 2009 British Embassy Madrid, Project Manager for Embassy and Consulate General relocation
Jan 2005 - Mar 2008 British Embassy Madrid, Communications Director and Internal Political Officer
Aug 2004 - Dec 2004
FCO, Head of Consular and Africa Section, Press Office
Jan 2003 - Aug 2004
FCO, Head of Migration and Justice and Home Affairs Section, EU-Internal
Aug 2002 - Dec 2003
British Embassy Madrid, First Secretary Political/Military
Aug 2000 - Aug 2002 FCO, Head of International Security Section, Security Policy Department
April 1997 - Aug 2000
British Embassy Buenos Aires, Second Secretary Political
Oct 1996 - April 1997
British Embassy Belgrade, Third Secretary (KHF/Aid)
Sept 1995 - Oct 1996
FCO, Desk Officer Health and Social Affairs, EUD-Internal
Published 11 October 2011