News story
Change of Her Majesty's Ambassador to the Republic of Estonia
Mr Christopher Bruce Holtby OBE has been appointed Her Majesty's Ambassador to the Republic of Estonia.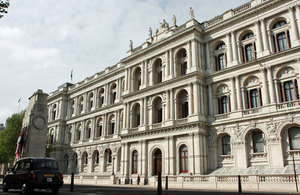 He will succeed Mr Peter Leslie Carter who will be transferring to another Diplomatic Service appointment.
Mr Holtby will take up his appointment during January 2012.
Mr Holtby joined the Foreign Office after starting his career with the Ministry of Defence, and has also spent time working in the European Union and at NATO.
On his appointment as Her Majesty's Ambassador to the Republic of Estonia, Mr Holtby has said:
"The UK and Estonia are already close Allies and partners with common objectives in a wide range of areas. The UK is grateful in particular for Estonia's steadfast commitment of armed forces alongside the UK as part of NATO's engagement in Afghanistan. I look forward very much to building on Peter Carter's achievements and deepening even further our political and practical partnership across the spectrum of our shared interests during my time in Tallinn."
Curriculum vitae
Full name:
Christopher Bruce Holtby
Polly Jane Holtby
One son, two daughters
2007-present
FCO, Deputy Head, Security Policy Department (European Security, NATO, Military and Civil-Military Operations, Maritime Security), and also Chairman of the Operational Co-ordination and Regional Capability Development Working Group of the Contact Group on Piracy off the Coast of Somalia
2002-2007
Brussels, Policy Adviser on Asia and the Pacific to EU High Representative Javier Solana and his UK liaison officer, EU Council Secretariat
2000-2002
FCO, Head of Kosovo Section
1999-2000
MOD, Head of Kosovo Review Team
1998-1999
MOD, Head of Policy and Operations Section, Balkans Department
1994-1998
Brussels, Second Secretary, UK Delegation to NATO and the Western European Union
1993-1994
MOD, Desk Officer, Navy Resources and Programmes Department
1992-1993
MOD, Desk Officer, NATO and European Policy Department
1992
Entered the Civil Service fast stream
Published 11 July 2011