News story
Change of Her Majesty's Ambassador to the Republic of belarus
Mr Bruce Bucknell has been appointed Her Majesty's Ambassador to the Republic of belarus.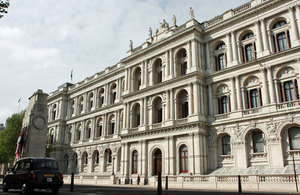 He will succeed Ms Rosemary Thomas who will be transferring to another Diplomatic Service appointment. Mr Bucknell will take up his appointment during July 2012.
Mr Bucknell is a career diplomat who joined the FCO in 1985. He has served in Amman, Milan and Madrid, and in a variety of jobs in the FCO in London. He is married with two sons.
On his appointment as Her Majesty's Ambassador to the Republic of belarus, Mr Bucknell said:
"I am pleased to have the opportunity to serve as Ambassador in belarus. belarus has an important role in helping create a common space across Europe for the promotion of peace and prosperity."
Curriculum vitae
Full name:
Bruce James Bucknell
Married to:
Henrietta Lola Dorrington-Ward
Children:
2 sons (George and Tom)
April 2009 - present
FCO, Deputy Head, Estates & Security Directorate
April 2007 - April 2009 FCO-DFID, Deputy Head, Sudan Unit
Dec 2003 - March 2007
Madrid, 1st Secretary (Labour and Social Affairs)
Sept 2003 - Dec 2003
Spanish Language Training
April 2001 - Aug 2003
FCO, Head of Central Europe Section, CNWED (later European Union Internal)
July 1999 - Apr 2001
FCO, Desk Officer, NATO Section, Security Policy Department
April 1995 - Aug 1999
Milan, Her Majesty's Consul (Press and Public Affairs)
Oct 1994 - April 1995
Italian language training
Nov 1993 - Oct 1994
FCO, Policy Co-ordinator, Africa Command
April 1992 - Oct 1993
FCO, Desk Officer, Africa Department (Equatorial)
Jan 1992 - April 1992
Secondment to European Bank of Reconstruction & Development
June 1988 - Aug 1991
Third Secretary, Chancery, Amman
Published 23 January 2012