News story
Change of Her Majesty's Ambassador to the Republic of Albania
Mr Nicholas Cannon OBE has been appointed Her Majesty's Ambassador to the Republic of Albania.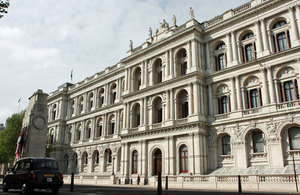 He will succeed Ms Fiona McIlwham who will be transferring to another Diplomatic Service appointment. Mr Cannon will take up his appointment during March 2012.
Mr Cannon joined the Foreign and Commonwealth Office in 1988 and has served in Paris, Nicosia, Islamabad and most recently as Ambassador to Rwanda (High Commissioner after Rwanda joined the Commonwealth in 2009) and Ambassador (non-resident) to Burundi.
On his appointment as Ambassador to Albania, Mr Cannon said:
"It is a great honour to be appointed to this post in this the 100th year of the Independence of Albania. I look forward to working to improve still further the excellent relations between the Republic of Albania and the United Kingdom."
Curriculum vitae
Full name:
Nicholas Cannon
Married to:
Alice Cannon
Children:
Two sons
2008-2011
Her Majesty's High Commissioner to Rwanda and Her Majesty's Non-Resident Ambassador to Burundi
2004-2007
FCO, Deputy Head, Africa Department (Southern)
2003-2004
10 Downing Street, Assistant Private Secretary
2000-2002
Islamabad, First Secretary
1997-2000
FCO, Section Head, Southern European Department
1994-1997
Nicosia, Second Secretary (Political)
1992-1993
FCO, Desk Officer, European Community Department
1990-1992
Paris, Third Secretary (Political)
1989
FCO, Assistant Desk Officer, Hong Kong Department
1988
FCO, Assistant Desk Officer, Economic Relations Department
Published 13 February 2012