News story
Change of Her Majesty's Ambassador to the Plurinational State of Bolivia
Mr Ross Patrick Denny has been appointed Her Majesty's Ambassador to the Plurinational State of Bolivia.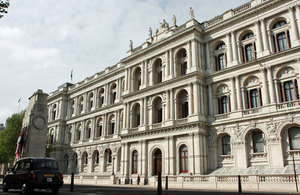 He will succeed Mr Nigel Marcus Baker who will be transferring to another Diplomatic Service appointment. Mr Denny will take up his appointment during October 2011.
Mr Denny joined the Foreign Office in 1979 and has served at a wide variety of Post overseas including two appointments in Latin America. He is currently serving as the Administrator of Ascension Island, a British Overseas Territory.
On his appointment as Her Majesty's Ambassador to the Plurinational State of Bolivia, Mr Denny said:
"I am delighted and honoured to be appointed to represent Britain in Bolivia, and very much look forward to working with the Government of Bolivia on a range of subjects of mutual interest and concern, building on Nigel Baker's many achievements. I am particularly delighted to have the opportunity to live and work in Latin America again and much look forward to assuming my duties."
**
Curriculum vitae**
Full name:
Ross Patrick Denny
Married to:
Claudenise de Lima Denny
Children:
Jose Victor Pinto de Lima, Amanda Rebecca de Lima Denny
Sept 2008 - present
Ascension Island, Administrator
Oct 2005 - Aug 2008
FCO, Team Leader, Research Analysts
Apr 2002 - July 2005
Luanda, Deputy Head of Mission, Her Majesty's Consul, Entry Clearance Manager and Director of Trade Development
June 1998 - Nov 2001
Sao Paulo, Vice Consul (Commercial/Press & Public Affairs)
Sept 1992 - Oct 1997
The Hague, Second Secretary Political/EU Affairs
1989 - 1992
FCO, South Pacific Department
1988 - 1989
FCO, Personnel Services Department, Research & Estimates Unit
1985 - 1988
Warsaw, Vice Consul
1983 - 1985
Doha, Assistant Management Officer/Accountant
1980 - 1983
Santiago, Accountant
1979 - 1980
FCO, West Indies and Atlantic Department
Published 28 July 2011