News story
Change of Her Majesty's Ambassador to the Kingdom of Cambodia
Mr Mark Gooding has been appointed Her Majesty's Ambassador to the Kingdom of Cambodia.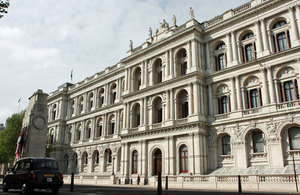 He will succeed Mr Andrew Mace. Mr Gooding will take up his appointment during September 2011.
Mr Gooding joined the Foreign Office in 1999. He has served as Deputy High Commissioner to Sri Lanka and the Maldives and as Political and Economic Consul at the British Consulate General in Shanghai. His London positions have included Private Secretary to the Foreign Secretary and Head of the EU Budget team.
On his appointment as Ambassador to the Kingdom of Cambodia, Mr Gooding said:
"I am honoured and delighted to be appointed HM Ambassador to the Kingdom of Cambodia. The UK and Cambodia have strong shared interests in a variety of fields, including trade, development, tourism, climate change, security, and human rights. I look forward to developing further the strong ties that already exist between our two countries and to creating new partnerships in the years ahead."
Curriculum vitae
Full name:
Mark Gooding
Civil partner:
Dr Christopher McCormick
June 08-present
Sri Lanka and the Maldives, Deputy High Commissioner
June 06-Mar 08
FCO, Private Secretary to the Foreign Secretary
July 04-June 06
FCO, Team Leader, EU Budget Team
Aug 02-July 04 Shanghai, Consul (Politics, Economics, PPA)
Oct 00-July 02
London and Beijing, Full Time Language Training in Mandarin
Sept 99-Oct 00
FCO, Desk Officer, EU Department (External)
1999
Joined FCO
Published 25 March 2011