News story
Change of Her Majesty's Ambassador to the Federal Democratic Republic of Ethiopia
Mr Gregory Dorey CVO has been appointed Her Majesty's Ambassador to the Federal Democratic Republic of Ethiopia.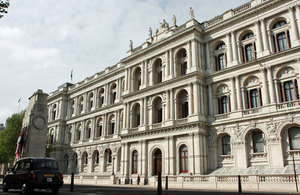 He will succeed Mr Norman Ling who will be transferring to another Diplomatic Service appointment. Mr Dorey will take up his appointment during December 2011.
Mr Dorey joined the FCO in 1986 (after a previous secondment from the Ministry of Defence). Most recently he has been serving as British Ambassador to Hungary. Before that he held a wide variety of diplomatic posts at home and abroad.
On his appointment as Her Majesty's Ambassador to the Federal Democratic Republic of Ethiopia, Mr Dorey said:
"It is a great privilege to be appointed to this post, with its important and varying responsibilities. I look forward to getting to know the governments to which I will be accredited and their people first hand; and to representing British interests in the region and with the members of the African Union. I know that I shall enjoy working with our excellent Embassy, Department for International Development and British Council teams to make a positive difference on behalf of the United Kingdom."
Curriculum vitae
Full name:
Gregory (Greg) John Dorey, CVO
Married to:
Alison Patricia Dorey
Children:
Three
2007-present
Budapest, Her Majesty's Ambassador
2005-2007
FCO, Assistant Director, Human Resources Directorate
2000-2004
Hong Kong, Deputy Head of Mission
2000
HSBC London (secondment)
1996-1999
Islamabad, Counsellor Economic, Commercial, Development, Media (1996-97) then Deputy High Commissioner (1998-99)
1994-1996
FCO, Deputy Head, Middle East Department
1992-1994 FCO, Private Secretary to Minister of State
1989-1992
Budapest, First Secretary (Political/Economic)
1986-1989
FCO, Acting Head, CSCE Department
1984-1986
Ministry of Defence
1982-1984
UK Delegation to NATO, Brussels, Second Secretary
1977-1981 Ministry of Defence
Published 6 June 2011