Change of Her Majesty's Ambassador to Sweden
Mr Paul Johnston has been appointed Her Majesty's Ambassador to Sweden.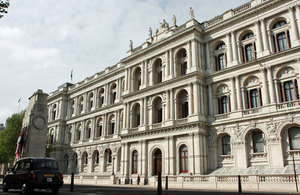 He will succeed Mr Andrew Mitchell who will be transferring to another Diplomatic Service appointment. Mr Johnston will take up his appointment during July 2011.
Paul Johnston joined the FCO in 1993. He has since worked mainly on European and international security issues, including the conflicts in the former Yugoslavia, the development of the EU's Common Security and Defence Policy, NATO and the United Nations, including in New York during the UK's Presidency of the European Union and the UN World Summit in 2005.
On his appointment as Ambassador to Sweden, Mr Johnston said:
"Sweden is one of the UK's closest partners in foreign and domestic policy and in trade and investment. I've worked with and admired Swedish diplomacy for many years, including during their EU Presidencies in 2001 and 2009. Our governments are committed to an ever-stronger relationship and I'm delighted to have the opportunity to work in support of that. On a personal note, my wife and I are looking forward to living and working in one of Europe's loveliest cities."
Curriculum vitae
Full name:
Paul Charles Johnston
Married to:
Nicola Johnston (nee Maskell)
Children: None
2008 FCO, Director, International Security
2005-2008 UKMIS New York, Head of Political Section
2002-2004 FCO, Head, Security Policy Department
2001-2002 FCO, Deputy Head, EU External Department
2000-2001 FCO, Head Kosovo Policy Team, Eastern Adriatic Department
1999-2000 FCO, Head, Kosovo Policy Team, Eastern Adriatic Department
1995-1999 Paris, Second Secretary
1993-1995 FCO, Bosnia Desk Officer, Eastern Adriatic Group
1990-1993 London, MoD
Published 8 October 2010