Change of Her Majesty's Ambassador to Saudi Arabia
Sir Tom Phillips KCMG has been appointed Her Majesty's Ambassador to the Kingdom of Saudi Arabia in succession to Sir William Patey KCMG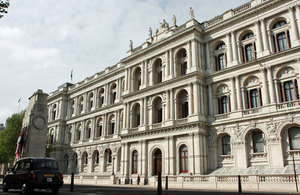 Sir Tom will take up his appointment during September 2010.
Sir Tom joined the FCO in 1983 having previously worked for the Department of Health and Social Security.
His first overseas posting was as First Secretary in the British High Commission in Harare, and he returned to Africa as High Commissioner in Uganda in 2000.
He has served as Ambassador to Israel since 2006 and was previously the Director responsible for Afghanistan and South Asia at the Foreign and Commonwealth Office.
After a posting to the British Embassy in Washington in the mid-1990s, he returned to London in 1997 to head the Foreign Office's Eastern Adriatic Department including through the period of the Kosovo crisis.
On his appointment as Ambassador to Saudi Arabia, Sir Tom said: "I am delighted and honoured to be given this opportunity to serve in the Kingdom of Saudi Arabia, a country with which the UK shares extensive and close interests, and which plays a pivotal role both in the region and internationally."
Curriculum vitae
Full name: Tom Richard Vaughan Phillips
Married to: Anne de la Motte Phillips
2006 - present Tel Aviv, Her Majesty's Ambassador
2002 - 2006
FCO, Director, South Asia and UK Special Representative on Afghanistan
2000 - 2002 Uganda, British High Commissioner
2000 London and Nairobi, Secondment to SmithKline Beecham
1997 - 1999 FCO, Head, Eastern Adriatic Department
1993 - 1997 Washington, Counsellor External Affairs and Joint Intelligence Committee Representative
1990 - 1993 Tel Aviv, Deputy Head of Mission and Consul General
1988 - 1990 FCO, Deputy Head, Personnel Policy Department
1985-1988 First Secretary, British High Commission, Harare
1983-1985 FCO, Energy, Science and Space Department
1977-1983 Department of Health and Social Security, London
Published 21 June 2010