News story
Change of Her Majesty's Ambassador to Mongolia
Mr Christopher Charles Stuart has been appointed Her Majesty's Ambassador to Mongolia. He will take up his appointment during April 2012.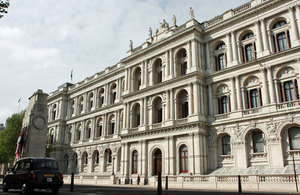 He will succeed Miss Thorhilda Mary Vivia Abbott-Watt who will be transferring to another Diplomatic Service appointment.
Mr Stuart joined the FCO in 1997. He has held a variety of positions at home and abroad. He has served overseas in Tokyo and in Osaka where he was Consul General and Head of UKTI. He most recently spent a period on secondment to the private sector.
On his appointment as Her Majesty's Ambassador to Mongolia, Mr Stuart said:
"I am delighted and honoured to have been appointed Ambassador to Mongolia. This is an exciting and promising moment in the history of this beautiful country."
"We have a close and enduring friendship with Mongolia and it will be a privilege to lead the Embassy team in Ulaanbaatar in further developing and strengthening the links between the two countries."
Curriculum vitae
Full name:
Christopher Charles Stuart
Married to:
Isabelle Julie Louise Stuart
Sept 2009 - present
Director Corporate Development, The Energy Technologies Institute (Private Sector secondment)
April 2007 - Sept 2009
Osaka, Consul General, Head of UKTI
Jan 2004 - April 2007
Head of Investment and Deputy Consul General West Japan
Jan 2003 - Oct 2004
Japanese Language Training
Oct 2001 - Dec 2002
UKTI, Head, Near East and North Africa Unit
Mar 1997 - Oct 2001
FCO, First Secretary Science and Technology Tokyo
1993 - 1997
Lecturer (p/t) Basford Hall College
Aug 1986 - Nov 1996
Health and Safety Executive, HM Inspector of Health and Safety
1982 - 1986
Development Chemist, Granwood
Published 14 December 2011