Change of Her Majesty's Ambassador to Mongolia
Miss Thorhilda Mary Vivia Abbott-Watt has been appointed Her Majesty's Ambassador to Mongolia.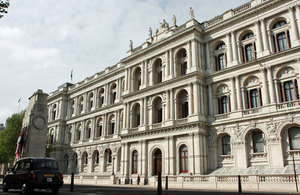 She will succeed Mr Wiliam Andrew Dickson who has retired from the Diplomatic Service. Miss Abbott-Watt will take up her appointment with immediate effect.
Miss Abbott-Watt joined the FCO in 1974 and has held a succession of diplomatic posts at home and abroad, as well as short appointments to UKTI and the Ministry of Defence. This is her third posting as Ambassador and her fourth as Head of Mission. It is the second time she has served as Ambassador to Mongolia.
On her appointment as Her Majesty's Ambassador to Mongolia, Miss Abbott-Watt said:
"I am delighted to be able to return to work for British interests in a country of growing importance to us, and one where we have many friends. It is a privilege as well as a great pleasure once again to lead the Embassy team."
Curriculum vitae
Full name:
Thorhilda Mary Vivia Abbott-Watt
Married to:
Reef Talbot Hogg
Children:
None
May 2010 - present
Ministry of Defence, International Liaison
Sept 09 - April 10
FCO, Finance Directorate
May 08 - April 09 Ulaanbaatar, Her Majesty's Ambassador
March-April 08
UKTI, Acting Head, Strategy and Innovation Section
March 07 - Feb 08 FCO, Migration Directorate
Oct 06 - March07 FCO, Afghanistan Group
August 2006
Kabul, Acting Head, Political/Military Section
March-June 06
FCO, Conflict Issues Group
2003-2006
Yerevan, Her Majesty's Ambassador
2001-2002
Dushanbe, Charge d'Affaires
1999-2001
FCO, Head, Visa Policy Section, Joint Entry Clearance Unit
1998-1999
Belgrade, First Secretary Political
1995-1998
Kiev, First Secretary, Head of Commercial Section
1991-1995
FCO, First Secretary, European Union (Internal) Department
1988-1991
Bonn, Second Secretary Political
1986-1988
FCO, Second Secretary, Environment, Maritime, Aviation and Environment Department
1984-1986
United Kingdom Representation to the EU, Third Secretary Political
1981-1984
Paris, British Vice Consul and Entry Clearance Officer
1979-1980
Latin America Floater. Temporary duty in posts in Latin America and the Far and Middle East
1974-1979
FCO, Third Secretary
1974
Joined FCO
Published 3 February 2011