Change of Her Majesty's Ambassador to Libya
The Hon Dominic Asquith CMG has been appointed as Her Majesty's Ambassador to Libya.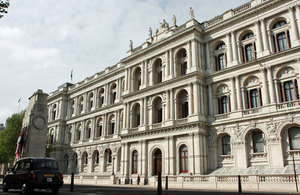 He will succeed Sir John Jenkins KCMG, who will be transferring to another Diplomatic Service appointment.
Mr Asquith is a career diplomat who joined the FCO in 1983. Over a career of nearly 30 years to date, he has served overseas as Ambassador to Iraq and Egypt and worked throughout the Middle East, South America and the US.
On his appointment as Her Majesty's Ambassador to Libya, Mr Asquith has said:
"I am very glad to be returning to Libya at such an important time. I look forward to working closely again with the new government as they address the challenges they face to deliver a better future for their people. The UK will continue to help them achieve these goals, and I want to build on our existing partnership to help them fulfil their ambitions for a new free, prosperous and representative Libya".
Curriculum vitae
The Honourable Dominic Asquith
Married to:
Louise Asquith
Children:
Gabriela, Helena, Thomas, William
Dec 2007 - May 2011
Her Majesty's Ambassador Cairo
Aug 2006 - Aug 2007
Her Majesty's Ambassador Baghdad
Sept 2004 - July 2006
FCO, Director Iraq
Mar 2004 - Aug 2004
Baghdad, Deputy Special Representative and Charge
Oct 2001 - Mar 2004
Riyadh, Deputy Head of Mission
July 1997 - July 2001
Buenos Aires, Minister/Deputy Head of Mission
Feb 1997 - June 1997
Spanish Language Training
Sept 1996 - Dec 1997 FCO, Drugs and International Crime Department
July 1992 - July 1996
Washington, First Secretary
Feb 1990 - June 1992
FCO, Private Secretary to Minister of State
July 1989 - Feb 1990
FCO, Desk Officer, European Union Department
Feb 1987 - June 1989
Muscat, First Secretary Domestic and Foreign Policy (Economy)
May 1986 - Jan 1987
Damascus, Head of British Interests Section
Sept 1984 - June 1986
FCO, Arabic Language Training
Dec 1983 - July 1984
FCO, Southern European Department
August 1983
Joined FCO, French language training
Published 17 November 2011