Change of Her Majesty's Ambassador to Libya
Sir John Jenkins KCMG, LVO has been appointed Her Majesty's Ambassador to Libya.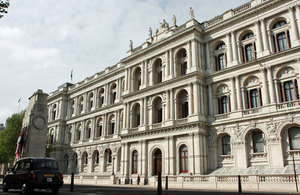 He will succeed Mr Richard James Northern MBE who has transferred to another Diplomatic Service appointment.
Sir John joined the FCO in 1980. After studying Arabic he has spent much of his subsequent career in or dealing with the Middle East, interspersed with two postings in South East Asia. He was appointed Special Representative to the National Transitional Council in Libya in May this year, moving directly from Iraq, where he had been Ambassador since 2009. He is married to Nancy, a teacher.
On his appointment as Her Majesty's Ambassador to Libya, Sir John said:
"My time in Libya so far has been one of the most memorable of a pretty packed career. And the formalisation of my appointment is a sign of how far things have come since the beginning of the uprising against the former regime in February this year. I am proud that Britain played such a significant part in protecting civilians. And I look forward to the future with every confidence. The Libyan community in the UK is the largest in Europe. Many have already returned to Libya to help build a new future and a new state. Britain will continue to support the Libyan people as they do so. And we shall work to widen our relationships and strengthen mutual understanding."
Curriculum vitae
Full name: John Jenkins
Married to:
Nancy Caroline (nee Pomfret)
Children:
None
2011 - Present
Benghazi/Tripoli, UK Special Representative to the NTC/Libya
2009 - 2011 Her Majesty's Ambassador to the Republic of Iraq
2007 - 2009
FCO, Director, Middle East and North Africa
2006 - 2007
Her Majesty's Ambassador to the Syrian Arab Republic
2003 - 2006
Her Majesty's Consul-General, Jerusalem
1999 - 2002
Her Majesty's Ambassador, Rangoon
1998 - 1999
Burmese language training, SOAS
1995 - 1998
Kuwait, Deputy Head of Mission
1992 - 1995
FCO, Assistant Head of Joint Assistance Unit (E)
1989 - 1992
Kuala Lumpur, Head of Chancery and later Head of Political Section
1986 - 1989
FCO, Head of East Africa Section, East Africa Department
1983 - 1986 Abu Dhabi, Second later First Secretary
1981 - 1983 Arabic language training, SOAS, Amman, Damascus
1980 -1981 FCO, Desk Officer for Greece, SED
Published 17 October 2011