Change of Her Majesty's Ambassador to Japan
Mr Timothy Mark Hitchens, CMG, LVO has been appointed Her Majesty's Ambassador to Japan.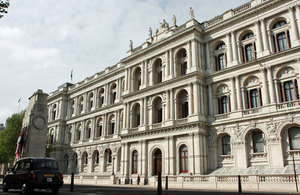 He will succeed Sir David Warren KCMG who will be retiring from the Diplomatic Service. Mr Hitchens will take up his appointment in December.
Mr Hitchens joined the FCO in 1983, and his first posting was to Japan. He has since worked on Asian, European and African issues, and been posted to Pakistan, Afghanistan and France. He spent four years as Assistant Private Secretary to The Queen. He is currently the Director for Africa.
On his appointment as Her Majesty's Ambassador to Japan, Mr Hitchens said:
"I am honoured and delighted to be given the opportunity to return to Japan. Britain's relations with Japan are among our most important. Japanese investment is critical for the British economy, and Japan is one of the top markets both for British goods and services. I have watched with admiration the way in which the Japanese people are recovering from last year's disasters, and want to broaden the United Kingdom/Japan partnership in areas such as higher education, science and the environment."
Curriculum vitae
Full name:
Timothy Mark Hitchens, CMG,LVO
Married to:
Sara Kubra Hitchens
Children:
1 daughter and 1 son
July 2010 - Present
FCO, Africa Director
October 2008 - July 2010
FCO, Director European Political Affairs
July 2005 - October 2008
Paris, Deputy Head of Mission
November 2002 - July 2005
FCO, Head, Africa Department (Equatorial)
December 1998 - November 2002
Assistant Private Secretary to Her Majesty The Queen
October 1997 - Dec 1998
FCO, Deputy Head, South East Asian Department
July 1995 - October 1997
Islamabad, Head, Political Department
July 1994 - July 1995
FCO, Speechwriter to the Foreign Secretary
1991-1994
FCO, Private Secretary to the Minister for Europe
1989-1991
First Secretary, European Community Department
1985-1989
Tokyo, Second Secretary
1984-1985
Japanese Language Student
1983-1984
Joined FCO, East African Department
Published 2 March 2012