Change of Her Majesty's Ambassador to Italy
Mr Christopher Prentice CMG has been appointed Her Majesty's Ambassador to Italy.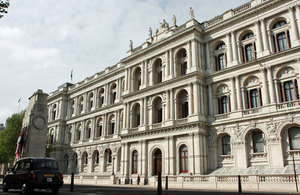 He will succeed Mr Edward Chaplin CMG OBE who will be retiring from the Diplomatic Service. Mr Prentice will take up his appointment during January 2011.
Mr Prentice joined the FCO in 1977 and has spent much of his career on Middle East affairs, including postings in Kuwait and later as Ambassador in Amman and Baghdad. He also has extensive European experience and served for three years in the Private Office of the Foreign Secretary.
On his appointment as Her Majesty's Ambassador to the Italian Republic and Her Majesty's Non-resident Ambassador to The Most Serene Republic of San Marino, Mr Prentice has said "From close family connections and frequent visits to Italy, it has long been our hope to serve in Rome and Nina and I are delighted now to have this opportunity to build further on the close partnership between the United Kingdom and Italy, in the EU, within the G8/G20, NATO and across the full breadth of the bilateral relationship."
Full name: Christopher Norman Russell Prentice
Married to: Nina King
Children: Two sons and two daughters
2007-2009 Baghdad, Her Majesty's Ambassador
2006-2007 Ambassador at Large for the Sudan Peace Process (and UK Special Representative)
2002-2006 Amman, Her Majesty's Ambassador
1998-2002 FCO, Head, Near East and North Africa Department
1994-1998 Budapest, Deputy Head of Mission
1993-1994 Full-time language training (Hungarian)
1990-1993 FCO, Assistant Private Secretary to the Foreign Secretary
1989-1990 FCO, Assistant Head, European Community Department (External)
1985-1989 Washington, First Secretary (Near East and South Asia)
1983-1985 Cabinet Office, Middle East Analyst, Assessments Staff
1980-1983 Kuwait, Third later Second Secretary
1978-1979 Arabic Language Training (Shemlan, Lebanon)
1977-1978 FCO, Desk Officer Arab-Israel, Near East and North Africa Department
1977 Joined the FCO
Published 28 September 2010