Change of Her Majesty's Ambassador to Ireland
Mr Dominick John Chilcott CMG has been appointed Her Majesty's Ambassador to Ireland in succession to Mr Julian King CMG CVO who has transferred to another appointment.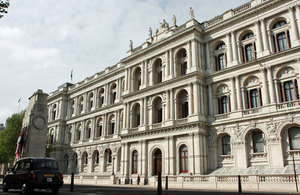 Mr Chilcott will take up his appointment during March 2012.
Mr Chilcott joined the FCO in 1982. His most recent posting, which lasted only six weeks, was as Her Majesty's Ambassador to Iran from which he, with the rest of the embassy's British staff, was evacuated last December after the attack on the embassy compounds. Before that he served as Deputy Head of Mission in Washington and as High Commissioner in Colombo. Much of Mr Chilcott's career has been spent on European matters, including postings to Ankara, Lisbon and the United Kingdom's Permanent Representation to the EU. He has also been Assistant Private Secretary to two Foreign Secretaries, the Rt Hon Sir Malcolm Rifkind MP and the late Rt Hon Mr Robin Cook.
On his appointment as Her Majesty's Ambassador to Ireland, Mr Chilcott said:
"Being the next British Ambassador in Dublin is a hugely appealing prospect. Bilateral relations are in a very good place. I look forward to playing a part in supporting our mutually beneficial commercial ties and in working across the wide waterfront of government to government business. And as someone with an Irish grandmother, I am more than eager to become much better acquainted with the people, culture and geography of Ireland."
Curriculum vitae
Full name:
Mr Dominick John Chilcott CMG
Married to:
Jane Elizabeth Chilcott (nee Bromage)
Children:
4 (1 daughter and 3 sons)
Oct 2011-Nov 2011
Her Majesty's Ambassador, Tehran
Jan 2008-April 2011
Washington, Deputy Head of Mission
April 2006-Jan 2008
Her Majesty's High Commissioner, Colombo
June 2003-Mar 2006
FCO, Director for Europe (bilateral relations and resources)
Jan 2003-Jun 2003 FCO, Director of the Iraq Policy Unit
1998-2002
UK Representation to the EU, Brussels, Counsellor for External Relations
1996-1998
FCO, Assistant Private Secretary to the Foreign Secretary
1993-1995
Lisbon, Head of Political Section
1990-1992
FCO, Desk Officer for EU regional policy and Gibraltar, Europe Directorate
1988-1989
FCO, Head of Section, Central African Dept
1985-1988
Ankara, Third, later Second Secretary Chancery
1984
Full-time Turkish language training
1982-1983
FCO, Assistant desk officer, Southern African Dept
1982
Joined FCO
Published 12 March 2012